Smokestack Books
Smokestack Lightning launches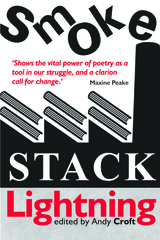 A series of readings to launch Smokestack Lightning, Smokestack's 200th book, which contains one poem from every book published by Smokestack since 2004, including poems by John Berger, Victor Jara, Vladimir Mayakovsky and Sylvia Pankhurst, as well as anthologies from the Soviet Union, Algeria, France, Siberia, the US, Greece, Palestine and Cuba. A reminder that there is more to poetry than the values of show business, big business, celebrity and careerism that currently colonise so much of the British poetry scene.
Five Leaves Bookshop, Nottingham
Monday 18 July, 7pm
Includes readings by Rob Francis, Roy McFarlane, David Duncombe, Emma Jones, John Lucas, Deborah Tyler-Bennett and Mike Wilson. Plus the launch of Neil Fulwood's Mad Parade.
Details of launch readings in Edinburgh and London still to be confirmed.
Short-listed for the British Book Awards Small Press of the Year 2019, 2020 and 2022.
Smokestack aims to keep open a space for what is left of the English radical poetic tradition in the twenty-first century. Smokestack champions poets who are unfashionable, radical, left-field and working a long way from the metropolitan centres of cultural authority. Smokestack is interested in the World as well as the Word; believes that poetry is a part of and not apart from society; argues that if poetry does not belong to everyone it is not poetry.
Smokestack's list includes books by John Berger, Linda France, Michael Rosen, Katrina Porteous, Ian McMillan, Kate Fox, Martin Rowson, Pnina Shinebourne, Sebastian Barker, Gerda Stevenson, Martin Hayes and Steve Ely. Smokestack's international list includes books by Vladimir Mayakovsky (Soviet Union), Bertolt Brecht (Germany), Gustavo Pereira (Venezuela), Francis Combes (France), Rocco Scotellaro (Italy), Heinrich Heine (Germany), Nikola Vaptsarov (Bulgaria), Andras Mezei (Hungary), Justyna Bargielska (Poland), Paul van Ostaijen (Belgium), Louis Aragon (France), Guus Luijters (Netherlands), Roque Dalton (El Salvador), Yiannis Ritsos (Greece), Victor Jara (Chile) and Laura Fusco (Italy).
Coming Soon
Coming soon from Smokestack are books by Martin Rowson, Tawfiq Zayyad, İlhan Çomak, Volker Braun, Clive Branson, Montagu Slater and Fred Voss