New and Selected Sorrows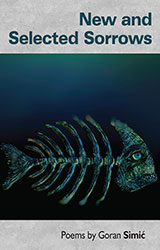 New and Selected Sorrows draws on Goran Simić's earlier collections, notably Immigrant Blues, Sunrise in the Eyes of the Snowman and From Sarajevo with Sorrow, together with a new sequence, 'Wind in the straight-jacket' and many poems published in English for the first time. It is a book about passports and borders, rats and wolves, soldiers and ghosts. It is a record of the realities – and the unrealities – of life in the Balkans, narrated by 'an ordinary man with ears of ordinary silk', whose sees the face of sorrow in 'the Sarajevo wind leafing through newspapers / glued to the street by a puddle of blood'.
Sample Poems

I love my accent, I love that wild sea
which attacks my weak tongue.
It doesn't reside in the morning radio news
as much as in the rustle of the job-offer flyers
stapled to the street poles.
In my accent you can find my past,
the different me who still talks with imagined fish
in a glass of water.

My grandfather was a fisherman
and I grew up on a dock
waiting for him to come back.
He built a gigantic aquarium when I was born
and every time he brought a fish
he named it immediately by some word I had to learn
until the next came… next came… next came.
I remember the first two were called 'I am'
and after that the beauty of language came to me
through the shining scales.
I learned by watching the aquarium
and recognizing the words by the silent colours.
After returning home
my grandfather would spend whole nights
making sentences by combining the fish
who would pass each other.
It's how I learned to speak.

I left the house the day my grandfather went
fishing for a black fish he was missing
and never came back.

Now I am sitting in the middle of my empty room
as in an aquarium
and talking with the ghosts of the fish
I used to recognize as words,
talking with the shadows floating
over the flyers ripped off street poles.

'I love my accent…
I love my accent…'
I repeat it again and again
so as not to ask myself:

Who am I now?
Am I real or just the black fish
my grandfather failed to catch?


I am an ordinary man with ears of ordinary silk
and I speak only with a voice I've heard somewhere,
a voice like an echo.
I've given up blunders:
that leg of mine intact in the sky was
an ordinary crutch made of rosewood
and when I talk about flowers
my voice smells of earth
in which blind moles delve.

I've given up blunders.
I know that rifle ranges, crowded at night with sad people,
were invented only because of the law
by which they protect somebody
from my gunpowder dreams.

I admit I sometimes start to cry at night
but so do the others.
I've met many people and they all resembled me.
Some hid in the bodies already used as corpses,
the others hid in corpses in which
an attentive ear can recognize a breath.
But they all had obedient eyes. And they liked dogs.
I've entered maiden's rooms filled with snow,
I've sniffed empty bedclothes and imagined
black stockings removed from maiden legs
only for me.
But so did the others.

Sometimes from the window I notice breadcrumbs
in the hair of women I once loved.
But they are now someone else's women
and now that's somebody else's bread.
I am an ordinary man and it's clear to me:
whenever I was born I'll die young.
I die every day and I am not afraid anymore
when in passing I notice my pale face
going by the other way.
That is why I sleep slowly.

Only sometimes
I am sad and begin to cry
though I don't know why.
And I feel sorry I am crying
and sorry I don't know why.

But so do the others.


They returned my passport.
A faceless man just came to my door
and brought me my passport,
still damp from last year's snow.
Your legs, he told me,
stick out of our trousers too much
and your head thinks more about the victims
of a future war than our past and our flag.
That's what he said
and ran down the stairs while
broken teeth and seagull feathers
fell out of his pockets.
He took away even his shadow.

He returned my face
that had been sitting in the police files for years,
my smile from the time when I believed
that wisdom was as big as a travel bag.
He returned my passport
when I'd forgotten I ever had it.

Perhaps he didn't know that I often travelled at night,
that my skin was full of odors
of continents unknown to him
and my room full of things meaningful only to me:
I brought an icicle from the North,
fire from the South,
a candle from the East,
wind from the West,
and I didn't have to justify to anybody
my simple need to avoid maps and routes
already travelled by those who came before me.

He returned my passport.
He brought back the borders
and changed me into a simple traveller
who will be forced to compare himself.
Perhaps that's why he returned
my passport.