Footprints - OUT OF PRINT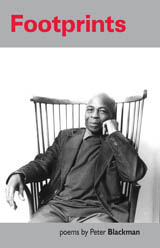 Peter Blackman (1909-1993) was one of the early pioneers of Black-British poetry. Although his work has been unavailable for many years, he was once a major figure in radical Caribbean politics and culture in London. His friends included Paul Robeson (with whom he visited the Soviet Union in 1949), Nazm Hikmet, W.E.B. Du Bois and George Lamming. In the 1950s, the composer Alan Bush set part of Blackman's 'My Song is for All Men' in his cantata Voices of the Prophets. In 1980, the ex-Soft Machine drummer Robert Wyatt recorded Blackman's poem 'Stalingrad' on the flipside of Stalin wasn't Stallin'.
Footprints contains four long poems, 'My Song is for All Men', 'Stalingrad', 'Joseph' and 'London', plus a short elegy to Claudia Jones, Blackman's friend and comrade and the founder of the Notting Hill Carnival. Footprints is a book about empire and racism, resistance and struggle, from Korea to the U.S. Civil Rights Movement. And it is a book about liberation, from Stalingrad to London.
Sample Poems

My song is for all men Jew Greek Russian
Communist pagan Christian Hindu Muslim Pole Parsee
And since my song is for all men
More than most I must state a case for the black man.

I have wandered with the Men of Devon over the Devon hills
Conned thought with Milton where low voices drift
through time buoying music over death and forgetfulness
I have wandered beyond to distant Caucasia
Skirting my wonder of blood wined in the beauty
Of green mountains hemmed by blue waters on Georgia"s coast
I have listened to debate in London and Moscow
Prague Paris and many another town
I have heard statement confused or insistent
patient or fretted facing a claim
And ever the claim was the same
"This is my own" the voices repeated "my hands have built it.
     It is my very own. Show us your fruiting."
Let me then bring mine own
This is mine own. I state a claim for the black man

I am the black man
I hide with pigmies in the hot depth of the forest that is Africa"s girdle
I am the Zulu striding hot storm over the brown whispering veldt
that rides in my blood like a battle
I am the Ashanti I fold my strength in the beaten gold
of a stool shaped for immortals
I am the Nilotic standing one-legged for my rest
I am the Hyskos escaped out of Egypt and become king of Ruandi
I am the miner baring the wealth of South Africa
I hold the fate of the world in my hands in the uranium pits of the Congo
I am no more the man of Zambesi than I am the man of Limpopo
I am no less the man from the mountains of Kavirondo than I am the warrior bred of the Masai
I am as much Ibo as I am Yoruba
I am all that is Africa I reach out to embrace those who have left me
I dig cane-holes in hot West Indian islands
I run donkeyman on trampships plying from Cardiff
I wear a red cap on all North American railroad stations

I bring rough hands calloused in the tumult of weariness
Strong-boned not given to prayer force strained to hard bruising
Bearing rough burdens to enrich men in England America
France Holland Brazil. I work for my bread.
A woman comes with me long-limbed high-bosomed proud of
countenance
She walks abroad her presence dressed
Fluent of Earth and love
Sweet as the fresh-rained corn at early morning

Eyes soft as mountain lakes deep-shaded
O"er shot of sunshine truant midst the reeds
At hide and seek with laughter supply flung
The music of her motion

Sweeter is this purple grape
Than Pompadour"s wild roses
Wide-eddied leaps life"s promise
Strong
In the rivers of her keeping

The Black woman brings her beauty
I shall sing it
Bid every nation know
And worship it
With her at my side I measure all things
She is the source of my pride from her stem all my creations


And since there are those who pretend to estimate the peoples
Sum and divide them to suit the needs of their policy
That for this class, this for that superior nation,
Shaped and assessed on the rate of their own order in merit
There are some things I must say to them

And oh men of Europe Asia America and all the sea islands
Come near and look at these faces
For this also concerns you
And you men of Africa especially scan them well and remember them
You will find them to-day
In London Paris New York Buenos Aires Madrid and Berlin
One and all for themselves very superior persons
The Bitch of Belsen too was a very superior person
She was for herself a fine humanist held a peculiar conception
Of art, she loved dogs had a taste highly refined above others for parchment
The skin of a painter musician a giant tattooed
Some poet greater than these to sing the strength of the peoples
Alone could suffice her for lampshades
She too shared our shape
She knew her man carnally kissed him caressed him longed for
him utterly when the need was upon her
As would a bitch for her dog? no she was at every point woman
And around herself and her living she wove a beastly deception

There are many like her in our world let us never forget them
Let us examine them
Swear with me here on oath that these will no longer govern our world

These are the men who find my presence constraining in Alabama
Barbados London Texas and similar places
They teach their children to turn their faces away when they see me

They say my features are coarse and repulsive
Too like the ape for man. Against these I have always to argue
my humanity

I may not travel in cabins on shipboard with them
Nor sit at table with them command them in armies or navies
in churches pray with them or for them
In Johannesburg their child if his skin be white
May push me from his path on the sidewalk
And as he feels his strength increasing to manhood
He may kick me into the gutter. No law bring me redress
They would have me stand in their polity one for whom laws are
made not one who may make them
My part to obey and to serve hew wood and draw water
I am expected to stand respectfully bared while this kind talk to me
Crawl cringe and dance like a poodle trained to beg crusts or a
bone for amusement
At Martinsville in the United States of America they hanged me
on the word of a white prostitute hot from the stews
Where all night long she fretted her pennies
Prone till the morning taught her lost virtue
The source of its pride when she saw me
No one could prove my guilt there was none to be proven
The judge simply stated my death would have a wholesome effect on the community
So they burnt me at Richmond in the name of Christ and democracy
To smother the fears that shook them as they played at a race of the masters.

To all my wide continent I welcomed these they came to Africa
seized all they could lay hands upon
Took the best lands for their tilling to build them white houses
I pass them each day cool deep-shaded in green
Their dwelling places wanton in lovelinesses
Spread for their senses by sky river and sea

I shelter my weariness in old packing cases
Cast of their luxury offscourings of cardboard and tin
Scraped of their surfeit too mean to cover their dog
My nakedness is whipped from sleep by rain pouring
at midnight to strip me in torment the last space
Earth pledged safe from their craving
To these I have something to say

These you claim are only my just deservings
Rags and old packing cases fair receivings
For beasts such as I am so you say
Crabbed you would tent me manacled as madmen
Once crouched beneath your palaces

I am unlearned in philosophies of government
I may not govern myself children must learn of their elders
till they are elders themselves
I know nothing of science never created a great civilisation
Poetry song music sculpture are alike foreign to my conceiving

I have never built a monument higher than a mudhut
Nor woven a covering for my body other than the passing leaves
of the grass
I am the subman
My footprints are nowhere in history

This is your statement, remember, this your assessment
I merely repeat you
Remember this too, I do not ask you to pity me
Remember this always you cannot condescend to me

There are many other things I remember and would have you remember as well
I smelted iron in Nubia when your generations still ploughed with hardwood
I cast in bronze at Benin when London was marshland
I built Timbuctoo and made it a refuge for learning
When in the choirs of Oxford unlettered monks shivered unwashed

My faith in the living mounts like a flame in my story
I am Khama the Great
I helped Bolivar enfranchise the Americas
I am Omar and his thousands who brought Spain in the light of the Prophet
I stood with my spear among the ranks of the Prempehs
And drove you far from Kumasi for more than a century
I kept you out of my coasts and not the mosquitoes
I have won many bitter battles against you and shall win them again
I am Toussaint who taught France there was no limit to liberty
I am Harriet Tubman flouting your torture to assert my faith in man's freedom
I am Nat Turner whose daring and strength always defied you
I have my yesterdays and shall open the future widely before me

I am Paul Robeson
I send out my voice and fold peoples warmly to my bosom
I sow courage in myriad bleak places where it is grown worn
My song kept this fire alight in the fiords of Norway under the Nazis
for my power is never diminished
I pile volcanoes in the minds of Mississippi sharecroppers
I engage continents
Beyond all bars you set I shall reach out
To tear life's glory down I shall reach out
To set life's crown upon mine own head with mine own hand
Shall reach out and never forget the reckoning

But first I must separate myself from your every particular
I must touch you at no point
I must shun your very fringes
And in all my living I shall never be alone