If This Were Real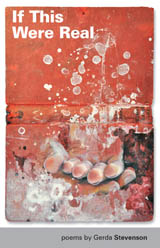 Gerda Stevenson's long-awaited first full-length collection is filled with song and music – skipping rhymes, piano, dance and marching music, laments and lullabies. She sings about butterflies, snowberries, aunts, teachers, Pentland rain, Sarajevo roses, graveyards, driftwood and the lost Eden of childhood; about wild weather, warm companionship and unmarked graves, about Bosnia, Iraq, Syria the Pyrenees and Scotland. If This Were Real is a kind of autobiography in verse, informed by intense relationships with places and people, by the personal and the political, by family life and the wider community in her native Scotland and beyond. Stevenson's experience as an actor and singer/song-writer is evident in the rhythmic sound structure of her writing – these are poems that demand not just to be read, but to be performed, 'spot-lit lies, / floodlit truths, and shadowed ambiguities / in our retellings of the world's old tales'.
Sample Poems

Bees cruised
on a breathless noon,
cabbage white butterflies
flickered in the lane.
Our dolls' china tea set
cracked the silence as we crept
over the neighbour's dyke,
spread a picnic under the rhubarb,
and stripped to our pink Scots skin.
We screeched and whooped
among the tall red stalks, striped
by their shadows in war paint glow,
squealed at the slap of leafy parasols,
shrieked as caterpillars fell to our knees
from pin-holes of light where they grazed.
Heels and stick
click down the path,
fingernail flames rip
through leaves: 'Get out!
Get out of my garden,
you dirty, dirty girls!'


A milky way of marshmallow stars,
Snow Queen's fruit to tempt us,
though we knew never to eat them:
poison – even in their silent breath,
we thought – so we'd cup our hands
over mouth and nose, hardly dare
to inhale, crouched beneath
the lethal galaxy, thrilled
by death's proximity.


My heart stops
at the waxed apple cheeks, plump
and impossibly polished;
your head in my palm yesterday,
skull barely masked by paper skin,
you were undeniably mine.
An imposter lies in this small white box
we ordered – a collector's doll,
lace-framed face mounted
on a slice of shop-window silk.
I would strip the pinned folds, find
the miracle of your miniature hands,
blood cooled to blue beneath each nail,
but a tail of brown thread,
carelessly trimmed, curls
below the jaw's angle, like a worm
emerging from puckered skin.
I draw back, let panic drain,
search for signs of you,
and detect at last
the down-turn of your top lip –
my mouth's copy –
under a lipstick blur.