On the Saltmarsh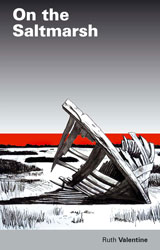 On the Saltmarsh is a book about language and silence. There is the historical silence that refuses to say where the bodies lie in Chile, Kosovo and Baghdad. There is the language of old photographs, bloody handprints and broken headstones. There are the suppressed memories of the survivors, the redrawn borders of the victors and the unmarked graves of the defeated. It is a book about migration and exile, contemporary history and everyday losses, a lost map of shifting sands, rising tides and the swollen silences of the Saltmarsh.
Sample Poems
What happens to light on the saltmarsh?
It skids to mud.
What happens to language?
Under bulging cloud,
the larks gabble syllables.
What happens to the children?
They lie on the mud-bed,
on the dunlin's scrawling,
in channels where the tide
trespasses, plunges,
and the rowing-boat
rotting amongst sea-purslane
won't skim towards them.

The children sailed in at night.
The stars were scheming.
Fog spilled from the moon.
The tide was rising
and snared them into the saltmarsh.
The boat foundered.
The children stumbled in mud.
So far they'd travelled
from Kalashnikovs
burning houses
people burning.
They waded into the dark.
The marsh plants scoured them,
glasswort, sea wormwood,
the lapwings screeched around them.
The saltmarsh woke,
had them airlifted out
in handcuffs, blindfolds,
kept them apart in prison.

There were children, but the marsh
fed them rock-salt,
left them drenched, in their underwear.
The marsh gave them
the half-life sea for a plaything,
she gave them freedom
to trudge in the dark, to flop
in the brimming mud,
to lie on their backs and blink at the constellations.
They hauled back rusted land-mines,
cluster-bombs,
sprung themselves into scrap-iron,
trying to shake her.