Tea with the Taliban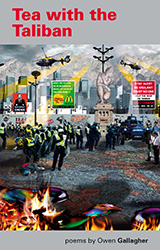 Owen Gallagher's second collection of poems is a book about tribes, real and imagined - the warring tribes to which we all belong. It's a journey to dystopia, from the Gorbals in the 1950s to contemporary Palestine, a close study of our need to belong to something bigger than ourselves, the shared identities whose 'anthems, arms and flags' are stockpiled in history's wardrobe. There are the loyalties of family and friendship, the sectarian and ideological loyalties of religion and class, of politics and nation state. There are the binary oppositions of Left and Right, Need and Greed, Right and Wrong, the banners of difference which are used to justify the imperial wars in Iraq and Afghanistan. Along the way we meet Emma Goldman, Trotsky and Shelley, and are shown glimpses of a distant worker's republic where Robert Owen cocktails are served on the beach every evening and parliamentary debates are conducted in verse.
Sample Poems

A people without poetry are butterflies without wings.


Under the State of Emergency
the first act of the new Government
will be to declare a Department of Poetry
to address the growing decline
of the nation's minds.

Each day will commence with presenters 
of radio and TV reciting uncomfortable
and provocative poems. 
Newsflashes will bring us work 
from dissenting poets.
Tabloids and broadsheets
will paste them on front pages 
and schools will become centres
of poetic excellence.

Verse-makers will be employed
in every workplace to encourage
creativity and cycle 
to the remotest parts to deliver 
a first-class service.

Prison inmates will be paroled
when they can write and recite
verses of new intentions.

Debates in the Workers' Parliament 
will be conducted in sonnets.
Airlines will attach odes 
to the back of headrests.
Life-jackets will contain
inflatable haikus. Hospital
patients will be comforted
by light verse. Poetic drop-in 
centres will be sited in supermarkets.

The State of Emergency will be lifted
when Presidents and Prime Ministers
from abroad stop seeking our assistance.
Anyone who enters our country
must be a published poet.


I imagine a table laid for two on a beach, and you 
being waited on by Plato and Thomas More,
insisting they desist from serving the first course.

They dim the sun, withdraw to the dunes, 
while you sip a Robert Owen cocktail and text, 
'Hurry, before the tide turns.'

My thumb moves into fourth gear. I ditch 
the sat nav and drive, until I see 'Utopia'. 
There to greet me are 'Red Shelley' and Mayakovsky. 

They urge me up the driveway. The children's 
screams in the rear cause me to brake 
in front of Butlin's gates.


until the Government dragged it onto the floor 
of the House of Commons, ripped 
its thoughts out and held them high,
taunting the opposition.

They plucked the vision from its sockets,
tore the speech from its mouth,
severed its head
and stamped on its calloused hands.

To ensure its remains would not be venerated,
they doused it with hate, struck a match 
and shovelled the ashes 
down a sluice into the Thames.