Both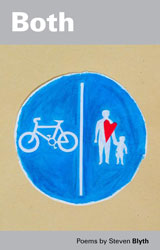 Steven Blyth writes in praise of domesticity, of the triumphs and failures of a life defined by family, friends, work and love. He watches himself as a son, a lover, a husband, a dad and an office middle manager, exploring the small disappointments and large hopes just below the surface of everyday living. Both is partly a hymn to a 1970s childhood spent in Sunday–school and school, playgrounds and parks, to old girlfriends, parents, neighbours, uncles, great grandmas and aunts 'three–million times removed'. It's also a book about Masculinity and Class, family Christmases and Corporate Strategy meetings. It's a Carry On film, 'the sort in which characters / Chortle, chuckle, guffaw, giggle or titter, / But never really laugh.'Steven Blyth follows in the footsteps of fellow Northern Realists Jim Burns, Geoff Hattersley, Peter Sansom and Ian McMillan down Dead Pan Alley to explain how time and memory work against relationships, how we are constructed by shared memories, unspoken arguments and secrets, and how beneath its rows, resentments and worries, family life constantly reveals its peculiar sense of belonging and happiness.
Sample Poems

I thought my dad was a secret agent.
Manilla envelopes would arrive marked
On Her Majesty's Service. Like the title
of that Bond film. The word secret was missed
but who cares when you're ten, watching him bent,
night after night, over a drawing table,
doing plans for his MI5 masters.
He'd dismantle dividers and compass,
clip them in a box placed out of my reach.
Gadgets from Q Division? Most suspicious,
the way he'd tell me and my sister
not to mention this work out on our street.
All that hush hush stuff was down to the tax –
declared little of what he earned on
Her Majesty's forms, worried about snitching
nosey neighbours. A day job draughtsman
drawing plans on the side – granny flats,
conservatories, extensions to kitchens...
It paid for holidays and Christmas presents,
for a birthday party clown or conjuror.
All those evenings and weekends he spent
earning that bit extra for us. I wonder
if he resented it then or still resents,
thinking of all the other dads who went
down to the pub, the match, the golf club?
'No. Course not. Don't be daft,' he'll say if asked.
But changes subject, unwilling to be pushed,
as if bound by some official secrets act.


It's Sunday morning in the park. My son
is riding his new bike. I'm relaxing
on a bench. We're both having a good time.
A thrill for both of us this first real spin
without stabilisers. Both of us laughing
at any dog that tries to catch him.
No chance! Both of us treating like treasure
conkers he's found. A good time for sure.
But enough, I wonder, to earn its place
in both our memories when he's older?
With my own parents, I too often find
only they or I recall. Like the Christmas
I ate my sister's selection box. Laughter
from them. I just shrug. They're equally blind
to my memory of my mother's shriek
when the neighbours' cat killed a grass snake.
I sit here feeling sad that this moment
might only be shared now, could be a blank
to one of us in years to come. Sadness
made worse when I see him so distant,
peddling on the other side of the park,
as distant as failed memory might make us.
Sadness soon gone, though, when he stops his bike
to look for me and waves and I wave back.


for Jim Burns

We're laughing about the times
we've skived off from our various jobs.
Your greatest achievement
was forty odd years ago
taking your time, detours and the long
way round while delivering the army's mail
in Germany. My best was months
of faking errands to Manchester
after working out no one at the firm
asked or noticed what a junior was doing.
We feel proud of it because it means
we've never taken work too seriously,
and let it grind us down, take us over.
It leads me to tell you about
the time I caught Rachel in Typing
reading a Jackie Collins novel
from inside her open desk drawer.
I told her to carry on
but maybe try something better next time –
Hemingway, Kerouac, Joyce.
You say, 'There's a poem there.'
I agree and say, 'You can have that one.'
You tell me it's mine, I insist it's all yours.
We pass it to each other for a while –
pretending we can skive off that job too.