The Limerickiad
Volume I: From Gilgamesh to Shakespeare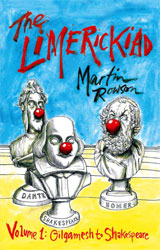 Every week for the last five years, award-winning cartoonist and writer Martin Rowson has been telling the story of World Literature in The Independent on Sunday. In limericks. With scrupulous regard to the rigours of the limerick form, Rowson has endeavoured to encapsulate humankind's fascination with the written word in all its forms, whether poetry, drama or prose – as a series of bad jokes, cheap puns, strained scansion, excruciatingly contrived rhymes and pure filth. Now collected together for the first time, The Limerickiad: Volume 1 takes us from the Sumerian classic Gilgamesh to the Complete Works of Shakespeare, with both verse and illustration displaying Rowson's reverence for the original texts. The Limerickiad promises to do for Literature what 1066 and All That did for History.
Sample Poem

When a Saxon Bard boellowed out 'HWAET!'
It meant 'Harken!' or maybe 'Be qwaet!'
	And the atmosphere sours:
	This means BEOWULF for hours! 
I'm surprised that there wasn't a raet!*

Cried the Aelthings, 'We've haerd it beofoer!
Grendel's mum in beocomyng a boer!
	We cannot endure a
	Sec moer of caesura
Or yoer metrycal tricks! Please no moer!'

The Bard, fearful his croewd mycght disperse
Yelled 'Okay! Here's a different verse!
	As yeou're really so crude
	Haere's THE DREAM OF THE ROOD!'
But if aenythyng that one was worse.



*Old English is frankly a mess
Depending on accent and stress
	Plus more letters as well!
	Jaesus Khryste! Bloewddy Hel!
What it means now is anyone's guess.