Letter to Auden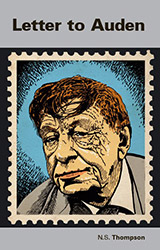 'I want a form that's large enough to swim in,' wrote W.H. Auden in Letter to Lord Byron – 'And talk on any subject that I choose, From natural scenery to men and women, Myself, the arts, the European news.'
Auden was writing in 1936 to the ghost of the long–dead Byron, to tell him about recent developments in poetry and politics. Seventy years later, N. S. Thompson decided it was time somebody wrote to Auden in order to bring him up to speed with events since his death in 1973.
Letter to Auden is an anti–heroic verse–epistle, combining Byron's savage wit and Auden's breezy conversational manner. Like Letter to Lord Byron it is written in rime royal. And, like any good letter, – as Auden says – it is full of 'enclosures... a bunch of photographs, Some out of focus, some with wrong exposures, Press cuttings, gossip, maps, statistics, graphs.'
Letter to Auden is a study in contemporary manners, mores, culture and politics. It's a manifesto for metrical craft, epigrammatic wit and dazzling rhymes. It's a poem, a letter, an anachronism, a parody and a bagatelle. It's an irreverent and original venture into the world of the Audenesque, and a homage to one of the twentieth–century's greatest poets.
Extract
'Dear Wystan' is the way I should begin
This letter to you, but today I fear
It may seem offhand or ungenuine:
'Dear Auden' is archaic, even 'dear'
These days is taken to be too sincere,
Unless you mean it. No wish to offend,
So could you take the first as from a friend?
Not that we ever met, although we crossed
Paths once in Ilkley by the famous moor
The year you passed away and, yes, I tossed
Away the opportunity, too poor
To cough up for your reading. Such a bore,
But then a local adage urging 'sup all'
Convinced me for a pub–crawl with Jeff Nuttall.
Please, Wystan, overlook this sin of youth.
I know it's inexcusable to miss
A maestro's reading and I was uncouth
(An ignorance that sadly brought no bliss),
Though happily a metamorphosis
Occurred and if I am still drinking hard
It is no longer with the avant–garde...
Oh, dear, I notice something else amiss
Besides the lack of deference in address;
It seems that if you write verse such as this
Tradition says it wears a formal dress;
A glance at the above and I confess
To overlooking that it should indent.
Forgive me, Wystan, no offence was meant.
Like you, I thought to use ottava rima
In homage to the noble Gordon, George –
Lord Byron – but the extra line could seem a...
Well, should we say too mighty to disgorge
Mere gossip? So, if from a lesser forge,
I hope there is some mettle in the blend.
And any faulty numbers, please amend...
Up to a point, that is. You liked to tinker
With everything you wrote, even omitted
Works from the canon. Mark of a great thinker?
I think not. And it has to be admitted
Rarely improved on what you first committed
To print. But we can read the job well done
In primis, thanks to Edward Mendelson.
Now let's begin the fun here, rock and roll,
Break open several bottles and get sloshed,
And if my measures do lack some control,
Then who would notice? Thus my hands are washed.
But in this letter to you, nothing's quashed,
It comes with all the news that's fit to hear.
There's mountains of it. Got your mountain gear?
I doubt you need to call for oxygen,
Although there's plenty that will make you gasp;
It could be some detachment such as Zen
Would help, but then you liked to get a grasp
Of things and were a sponge; the facts may rasp
At times, but there is nothing hard to swallow...
At least it's not an Oracle of Apollo.
And I would never claim to be prophetic.
A poet's disappointing if, like Blake,
He's tempted to be broadly theoretic
And lays a grand design out for our sake.
So I will humbly dig about and rake
Up what you need for keeping up to speed...
And, after all, you have some time to read.
You gathered every kind of information,
Reviewing many different types of books
From scientific texts to education,
And surely it was not a writer's looks
Attracted you; yes, you could get your hooks
In population growth and cereal,
The metabolic or bacterial,
And with a journalistic touch for issues
Turned molehills into mountains; and, on love,
Were softer than a pile of well–used tissues
(Things any better now with those above?)
But seemed to have a hand in every glove
And, as you learned from Bert Brecht and Kurt Weill,
Mixed poetry and politics with style.
If I can hardly hope to emulate
You there, I see there is a kind of fun
In being flippant as you flagellate;
But still, it must be said, I feel the gun
At my head too and want to make a run
For it: but then it's ringing like a bell
This is a year that homages will sell.
Oh, yes, your anniversary's been news
(Up to a point): pundits and critics tried
To formulate you in as many views
As have accumulated since you died.
I hope you will forgive them if they lied,
There is delight in hagiography
Despite the blots in your biography.
That's not to say there will not be a shelf
Of books about you this year and besides,
What poet wants to read about himself?
You flickered in and out of many tides
Of thought and fashion, mainly for the rides
They offered, all exciting in your day.
Perhaps you slightly envied Hemingway?
I will refrain myself on all accounts
(Well, for a little while at least): you were
A paradox and anyone who mounts
The podium to explicate the blur
Of whirling images may cause a stir,
But thankfully that here is not my task.
A little time from you is all I ask.
So first, you want the good news or the bad?
There's global warming, climate havoc, war
From Dafur to the suburbs of Baghdad
And not a great deal to be hopeful for...
Before we go through that particular door
Perhaps we should kick off with a surprise
For you: our world's gone mad for enterprise.
Yes, with the Eastern Bloc as driving force
In '89 came Communism's end,
(The Soviets reluctantly, of course)
But Velvet Revolutions set the trend
And party leaders reaped the dividend.
Perhaps the Russian mafia puts on airs,
But then why not? They're multibillionaires!
The Federation has its sister states,
Each hoping for an upturn from decline,
A president who seldom delegates,
Would never put dissenters down a mine,
But manages to make them all incline
In his direction, calling 'democratic'
What unambiguously is autocratic.
With aging Soviet missiles all kaput,
The Cold War safe as history, now there's oil
To field as economic weapon, shut
Supply off to a client less than loyal,
And make a better deal on foreign soil:
With power in the pipeline, there are those
Who have a godlike power to dispose.
Out in the Far East, it's a different story.
The year you died, I think saw Vietnam
Fall. For America there was no glory,
But then Red China courted Uncle Sam
And in a decade with designs, a dam
Or two, its output grew and now supplies
Computers, sportswear, toys and print silk ties.
The Yellow River's under yellow smog,
Its factories a throwback to the scene
Your childhood Midlands had and now they hog
The markets, too. The Dragon may be green
With dollars, but there's little landscape seen:
In Northern Provinces, it's touch and go
Where coal dust carpets Shanxi's Gerzhuotou.
You knew exactly why the Japanese
Invaded her in 1938.
They felt the World had brought them to their knees
When they tried to industrialise the state.
It will not work unless you motivate
Production by the market and the test
Was how much it could win back from the West.
Oh yes, I find it quite familiar
Reading of that dishonest low decade
When nation vied with nation. Not dissimilar?
As yet, we chat; the military parade
About, while we pump billions in for aid
And oil out and hope to settle scores,
Except in Afghan and Iraqi wars.
At one time it was said a New World Order
Was taking shape; that would be hard to tell
Now conflict's not confined to any border
But organized discretely cell by cell:
Collectively what all the movements spell
Out in the hands that push the envelope
Are simply men and women without hope.