Only Not Walking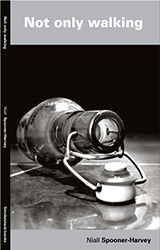 When Niall Spooner-Harvey was two, he was diagnosed with a form of Cerebral Palsy that meant he couldn't tie his shoe-laces for fifteen years. He entered his first poetry competition at the age of eight and won some birdwatching books presented by Bill Oddie. In 2004 he won the Farrago UK Slam Championships and was a member of the UK Slam team at the Hammer & Tongue Four Nations Slam in 2005.
Only Not Walking addresses the experience of living with an invisible disability in an impatient and unaccepting world. Hard-hitting and precise, humble and confrontational, these poems deal head-on with disability, deaths, love and being pushed around in colourful blue buggies.
Sample Poems
two beers.
it is like having had
two beers
with all the attendant fears
that go with walking like that
and acting sober.
or boxing gloves.
it's like being issued with boxing gloves,
being told to write that essay again
while wearing them
and don't just change bits:
start over.
it's like walking on a ground
made of breezy escalators
and shifting air, but
each time i mention it
here you, in any case, are with it:
that's not real. that's not real, that there.
i have never been able to talk frankly about being a mal–co
but once one person does it, you all do.
that's not real, that there.
you do not have a disability:
you are not in a wheelchair.
well, news. i was.
and it gives you a sore backside
and only when you are in one do you realise
that you are disabled enough
to get spat on
and called a nutter
and not be able to talk to anyone
when you are being pushed over cobblestones,
but LET'S TAKE A MINUTE HERE.
are you the one to tell me that i am not disabled
just mis–labelled, that actually it's not real, it's
FABLED
FINAGLED
like a stolen BUD that's actually a GROLSCH?
no, sir, you are not.
because until you feel
that dressing yourself
is the equivalent
of punching a disliked politician in the neb
until you feel
that tying your shoelaces
is like tying up the loose ends
of the arab–israeli conflict
until you have kicked off YOUR moulded shoes
built for you by the NHS specially
and said hollywood–style
'I! I CAN WALK NOW!'
until you have learnt to say
'i am not a malco–ordinate!
i am a DISco–ordinate!
D–I–S–C–O!'
you you do not know what labels are.
you cannot call me a BUD
and you cannot call me a GROLSCH either.
these labels stick.
i'll lend you those boxing gloves,
i'll buy you the beers,
and i'll box you.
box you
to the disco, and back.
and WE'RE OFF
sprint first
and it's me against everyone else
and at the start its as it has been for forty years now
everyone is equal
lane 1 is keeping up with lane 2
is keeping up with lane 3
is keeping up with lane 4
is keeping up with lane 5
and i am in lane 6
and i can tell you that
this race is always very close
there was bother in the fifties
where stupid jealous men in ghost hats
tried to kill some other contestants before they got out the blocks
but that has gone now
and this race is always very close
in fact judges have never been able to decide on placing
they've given everyone joint first so far
everyone has won an award
i hope i do
this is the first time ive felt confident enough to enter
as a disabled person
cough cough cough, sprint
geez i am knackered
this is very tiring stuff
PUFF PANT PUFF PANT PUFF
one minute in and everything still to play for
PUFF PANT PUFF PANT PUFF
two minutes in and everything still to win
PUFF PANT PUFF PANT PUFF
three minutes in and still a cause to fight for
PUFF PANT PUFF PANT PUFF
four minutes in and in goes all my effort
but what's this
oh my blasted legs i am falling behind
i KNEW this would happen
oh well
its like a sports race theres loads of different legs
as well as mine
next leg now, it's the egg and spoon
pass the egg and spoon then bro
perhaps i can win this bit
make up lost ground
sod it, they're getting away
and now my hands are covered in ALBUMEN cause i dropped it
and members of the audience are calling me names
well they don't do it to anyone else
spasticated what? please don't use that word in my presence
oh well best keep running
egg and spoon race failure
what's the next part as i am considerably behind now
i still might be able to win though
AH! sack race
now no–one can use their legs so there is hope
HUMP HUMP HUMP HUMP
HUMP HUMP HUMP HUMP
oh no
i've fallen over
legs needed (no)
sense of balance needed (yes)
i am not a racer i am a splayed bunch of twigs on the ground
i am all over the grass
i need a helping hand to pull me up
the frustration tastes like the thistles that i have just landed on
grrrr
tick, tock, tick, tock, tick, waiting, waiting, next bit
hey! i ask one of the marshals
what is the next bit?
the other racers are but pins in the distance
i must catch them up
so he tells me what it is
and i am irate to hear it
'the next bit is the steeplechase'
SHITBAGS SHITBAGS DAMN
that's it for me
my disability means
i cannot make the jumps.
i have never been that good at vaulting lumps of wood
or climbing trees
the audience are jeering
spasticated spasticated elasticated gitball HAH
this makes me VERY ANGRY INDEED
i HATE THIS RACE
people have obviously LIED ABOUT IT
i STORM OFF
i go to see THE OLYMPIC COMMITTEE
to give them a PIECE OF MY LEGS
i say
'since the sixties no–one has won this race
nobody has been proved to be superior to anybody else
i decide to enter this year and i am
significantly behind by miles
everyone else races and i come last
what will you do about it'
well DO YOU KNOW WHAT!
after this tirade
the committee are quite acquiescent.
SURPRISE
they say i can rejoin at the same point at the others
on the wheelbarrow leg in 10 minutes
i will go in the wheelbarrow
and the nice man in lane 2 will push me
such a nice man
that way
i have as much chance of an award as anyone else
to my mind this seems a reasonable adjustment
and so the happy ending comes
push push push push push push push push
lane 1 is keeping up with lane 2
is keeping up with lane 3
is keeping up with lane 4
is keeping up with lane 5
and i have been moved from lane 6
to lane 2's wheelbarrow
and i get an award
i get an award
i get an award
i am not
racing
with everyone else
and coming last
i am equal
i am equal
YES
oh shit
now i can't get on the podium
they don't have a ramp.
BASTARDS
i am a disabled man
and i have had enough of this.
yesterday,
i saw a play
in which
a lesbian telephone engineer
entered the house of
another disabled man.
this means
someone who cannot find his way around his kitchen so,
he offered her a drink
which she had to make herself
because he could not find his way around his kitchen.
he found out
that she was a lesbian telephone engineer
who used to be a lifeguard
and she found out
he'd been a policeman in an accident
and was now unable to swim –
so after she left,
he did the normal thing.
heSHOUTEDTHATHISWIFEHADLEFTHIM
heSHOUTEDIAMADISABLEDMAN
heSHOUTEDIHAVEHADENOUGHOFTHIS
heSHOUTEDSHOUTEDSHOUTEDSHOUTED
heSHOUTEDSHOUTEDSHOUTEDSHOUTED
heshothimselfinthehead, bing bing.
it happens to us all, but still
angry as a botched cow on a conveyor belt
i raised my hand in protest.
'excuse me!' i said.
'if i had
a gunshotwound
for everytime
that i'd beendumped
and wokenup
with lettuceforlegs
my headwouldbe
a colander!'
AWWWWWWWW, said everyone.
i didn't reply, though i should have said
that i am a disabled man
and i have had enough of this.