Sedgemoor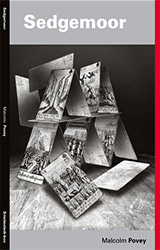 1685. England is sliding into tyranny under a Catholic king. The people of Dorset and Somerset rebel, flocking to join the bastard Duke of Monmouth when he lands at Lyme. Thousands of ordinary men, artisans and shopkeepers, fight the King's army at the Battle of Sedgemoor. For a moment, the victims of monarchy, church and class threaten to overthrow their masters.
Sedgemoor explores a crucial, but neglected, episode in English history, the last time ordinary people took up arms against their government. These hard-hitting poems tell the story of the Dorset and Somerset Rebellion of 1685, its bloody defeat and the state terrorism that followed, as Judge Jeffreys presided over the judicial murder of hundreds of prisoners. Moving between 1685 and the present, from England to Kosovo and Iraq, the poems are a forceful and prophetic witness to the continuing cruelties of empire and hierarchy, and a homage to the hopes and fears of those who must always struggle for something better.
Sample Poems
Heads that shouted lustily, 'A Monmouth!'
Limbs that bloodied the Grenadier guards,
Ended up parboiled in bay–salt, cummin seed,
(The odd particularity of research)
'To keep them from putrefaction ...
To keep off the fowles from seizing on them'.
So thoughtful, nailed on poles
In the not–yet–pretty villages,
Where now cream teas are served
To tourists keen on heritage.
The daily sight and stench,
(You really think those herbs had much effect?)
Reminding the guys and gals
'Wherever you go, we know your address'.
Imagine getting the milk in,
Taking the mail off the postman,
While a large chunk of what was your son
Wafts in the breeze.
Of the victorious soldiery, Earle writes:
'They raped, pillaged, and bullied'.
And my affable mate, pipe in mouth,
Told me how, conscripted to Malaya,
He was made to take part in a platoon
Gang bang. Fourteen men taking their turn
To rape a girl whose dad's a Communist.
In Vietnam, a new fellatio:
'The girl sucked a rifle–barrel
And had her brains blown out'.
'Things in khaki,' Lawrence wrote.
Men.
Three weavers from Stoke Trister, tiny hamlet,
All called Bollster, Edward, Israel and James,
Fought at Sedgemoor, the last battle on English soil
My history book says,
Sick of weaving, perhaps, to keep a clothier rich:
Devout men, fearing a Papist king force–feeding them
Wine and wafer: village men, eager for pike–thrust:
The chance to cut a lace–wrapped throat,
To lift a silk gown,
Maybe all six, in different mixes,
In each rebellious man,
Stumbled through the dark, to pre–dawn battle,
Raised pike and psalm against gun blast and cavalry.
Edward and James, the book says, were billed
'At large or killed' at the assize. Let's hope
At least one ran to the wild wood, changed name
And game, joined a band of unruly men
Who 'Refuseth the king's law'.
Israel of Stoke Trister, guilty of rebellion,
Was given to Howard, face–in–the–trough
Jamaica Governor, as a perk.
Imagine his trip from misty Somerset,
Clacking loom, to sun–struck servitude,
Boiling sugar, bossing blacks about.
Not knowing their end, I glance at the paper:
The boss of Barclays leaves with four million,
His perk for sacking ten thousand.
On a Weymouth estate, Tim Weaver, small boy,
Sharpens his hatred, scratches the Merc
Of the guy who lifts his single mother's skirt
For twenty quid.
The battle goes on.