Winter Breaks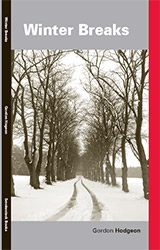 Winter Breaks is a no-frills week-end flight to the saddest hotel in the world. It's a grim Saga tour round the pleasures of old age, decrepitude and oblivion. Here you are only as cold as you feel.
At the heart of the book is a cycle of poems based on Franz Schubert's Winterreise. Schubert's broken-hearted young man becomes a modern pensioned-off curmudgeon, an anti-romantic for our times. With one foot in the grave and the other in his mouth, the narrator faces loss and the certain expectation of loss with exasperation, anger and caustic irreverence.
Gordon Hodgeon carefully picks his independent way across the frozen landscapes of the twenty-first century, glaciers of the heart, melting ice-caps of the spirit. Winter Breaks is a tribute to the nonconformist conscience, located somewhere between misanthropy and humanism, love and despair, mocking the world in which we live, bearing witness against false and unreliable gods. And when winter - like everything else - breaks down, the melting snows reveal the strength of tested values and convictions, the Horatian virtues of friendship, music, family, poetry, love and a determination to enjoy today - because tomorrow will surely be worse.
Sample Poems
I learned not to believe a word he said.
It didn't always work, but they're like that,
granddads, not quite grown up yet, not quite
playing the rules, not quite to be trusted.
The one I had lived in a baker's shop,
he was the baker, sold his backyard bread
in the downstairs front–room, buttered it
with Woodbines, Mint Imperials, bottled pop.
He let this grandson wander everywhere,
scullery, kitchen, landing. I could go
in the front parlour, play with the piano,
enter the shop, steal from the toffee jar.
In the long baking shed that filled the yard
were dusty sacks to sift white fingers in,
gas griddles quiet, waiting for the sign
to lift crisp muffins from the flour and lard.
But not the cellar. Dangerous, he warned,
catching me once too often at the sneck,
creaking the door ajar, sniffing the dark,
its pungent pool that lapped the top step's land.
'Why is it dangerous, Granddad?' 'Because,
my lad, of lack of light, the steep drop down,
the dead chap underneath his chiselled stone
in the flagged floor, and still one more because:
the well, just covered with a broken door,
so deep it could go down to endless night.'
I had to see all that, Jack Shiney–Light
and Granddad guiding the black–out tour.
I don't recall much else of that descent,
perhaps a smell of timber–damp, brick–mould,
a rusty hook that scratched, thick webs that fold
over the eyes, shadows that bent and bend
fifty years on to shroud me. A body,
was there, under that lettered stone? A well?
Never got down again, so I can't tell
the truth from tales with that old Methody.
I see now, in that dark, ghosts fetched from France.
Those dusty heaps are stockpiled newly dead
or sacks of loaves his kitchen cannot feed
to no–more–hungry mouths, wanting the chance
that limped him home, the shrapnel in his spine,
alive, to wife and son, chapel and shop
below which we two started on our drop
down planking steps into that sea–coal–mine
of our imaginings, while all around
and under us real pitmen bent and cut
and propped their tunnelling through fossil dirt
and trawled the airless nightmares of the drowned.
The shop still serves, with the front parlour added,
as off–licence. Teetotal George can't turn
in narrow plot. He won't root out his son,
wife, daughter–in–law on top or mum and dad
tucked in below. 'Not a dead cert, not quite,
miladdo. Suppose the dark is just the trick
light plays, tickled like me that look–a–like
shines his flashlamp down this shut, flooded pit'
Leather strap on the back door nail.
He'd belt us if we were naughty,
but never. We didn't know.
Never was future, moon–landings, our own cars.
Strap – shiny till you got close, saw
the cracks and scabby bits. His chin was like that
before he shaved. Hot water from the geyser,
the brush and shaving stick. And he kept on
looking and stroking. I do that with my beard.
Good lads most the time, our mum said.
Wouldn't have let him use it anyway.
But never. I sometimes think
just once he'd have enjoyed it, realised
he could do something. Not just work,
snooker, Woodbines, the pictures.
Thought I saw him once with another woman
five rows in front, got up, went home, forgot.
Did he? Did I dream?
Did the thought of her bare arm cross his mind
when the second ulcer burst?
By then mum and dad had moved and we
had wives and kids and lived away. The strap
went in the bin.
I wish they had had more excitement.
My kids look at me.
I wonder what they'll wish they'd wished for me
when it's quite safe, doesn't matter anyway.
Right at the back of the wardrobe
Time I had a clear out
Heaps of old programmes.
Lost games with dead players
Somebody got fed up of them
Gave them to a nine year old.
He is 35 and lives in New York
With no space for souvenirs
So they have shared our house.
Can't bag them with today's paper
I stack them in a sort of order
The Boro, United, England, The Rest.
When I'm certified immortal
The kids won't have room for all this
Shall we chuck these or do you want them?
We all have this ghost in the spare room
It can't remember who it played for
But its dream goals duster the shelves.