My Life in Squares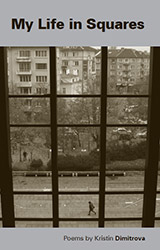 For a thousand years Bulgaria represented the border between Christian Europe, Orthodox Russia and Ottoman Islam. During the Cold War it was on the front-line between East and West. Today it represents the vivid clash of the traditional and the modern. Bulgaria is now our near neighbour and a fellow member of the EU. A new generation of Bulgarian writers are beginning to make their voices heard on the international stage.
Kristin Dimitrova is a Balkan minimalist, a feminist-fabulist whose work combines the fantastic and the prosaic. She writes with a deceptively simple, playful, light touch, teasing the reader with faux folk-wisdom and unexpected, often bathetic endings.
My Life in Squares is an introduction to the work of a major European poet and one of the most original writers to emerge in recent years from the 'new Europe'. A prize-wining and widely anthologised writer, Kristin Dimitrova's work has been published in 22 countries and translated into 19 languages. Oblique, subtle and witty, her poems creep up on her subjects from behind, demonstrating that looking at something sideways is not the same as avoiding the issue.
Sample Poems
At his hotel destination he clutched
a glowing glass of cognac among unfamiliar hills
for the time being. The receptionist girl
sucked him in through her thick glasses
and handed him a notepad. Sir,
there is a message for you
from your wife.
Thank you, I haven't got a wife,
but when I find one,
I'll read it.
We all know each other, more or less.
We listen to the reading author
with attention.
No one knows the three
grey old women
in the audience.
When we hear the long awaited 'help yourselves, please'
the three grey ladies
hurry to the buffet.
We turn our heads away from them.
Their rotten smell reminds us
of our exit–fee.
They advance without noticing us.
Beggars regard the others not as people
but as territory.
The three have no place among us.

We all talk of literature,
we will not fill our stomachs with the cheese rolls
and we step back squeamishly
from the reeking gash into a world
that gapes at our cheese rolls,
and has neither read, nor heard of literature.
We search for meaning. We came here
to treat people to books;
part of the meaning came –
to claim our cheese rolls.
Like a chess–player who plays with
both the white and the black pieces,
I have been attacking myself
for a long while.
At each turn of the chessboard
I defend myself against enemy bishops.
The knight's horses snort, stamping their feet,
and when they jump, their hoofs
pierce through chest bones.
The queen is laughing at me.
Today the white one.
Tomorrow the black one.
I hear her while I think
over my next move.
Some people end
this kind of game
with an inevitable victory.
I get upset,
kick down the chessboard
and storm out of the room.
Then I ponder over my loss and see
that it was so damn unfair.