Tinikling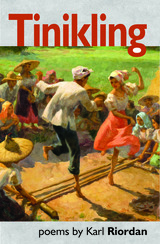 For the last five years, Karl Riordan and his Filipino wife Jeni have been forced to live thousands of miles apart because of the UK government that expects him to raise £22k to 'sponsor' her. Tinikling is a book about love, geography and learning to pick your way through the hurdles and traps of a relationship while navigating the 'hostile environment' of the UK immigration system. It's a book about long-distance intimacy and the short distances between life in working-class Manila and the South Yorkshire ex-mining communities where the author grew up. Taking its title from a traditional Philippine folk dance, Tinikling choreographs a complicated dance between love, racism and bureaucracy.
Cover image: Fernando Amorsolo, The Tinikling Dance Painting
Author photo: Jennifer V. Servino
Sample Poems
The small tear in my faded, ex-German
postal workers jacket that snagged on the nail
that held the string that held the lighter
at the door for single cigarette buyers
in Tatay Nick's sari-sari store
a week before our marriage.

I shovelled my palm into calamansi
like searching for the winning bingo ball,
two I stole to flavour the Ginebra
we might drink together that early morning.

His recipes passed on to grandchildren
massaged into their palms:
adobo, laing, ginataang libas
from leaves off the tree planted at the gate –
a seedling brought back from Bicol region
that now hues the loppy, tawny, dog
waiting to be walked.

On the living room rug he slept early,
curled into a question mark,
snoring through a western –
the stagecoach chased by arrows
on the flickering black and white screen
before the market run
in the dented Carter van.

Only his name above the store exists,
now they play mahjong on the green baize table,
clacking into the night, sipping shorts.
In the yard's swelter his dogs sniff and yelp.
I couldn't leave without mentioning the cats.
The one that followed us in a procession
up to the sepulchre, that clammy afternoon.
Marmalade smudged, ribs like a rack of knives,
it sat beside us whilst we prayed.

Another at the wedding-do as we toasted,
I felt a figure of eight
shift around my shins,
then at the last song it made itself seen.
The waiters are scraping Christmas stickers
off the window of the roadside café.
Adel is our friendly server today,
somewhere in her fifties, a missing tooth
which she tries to cover with her notepad.
In-between balancing plates of food
she damp-dusts figurines of the magi
removed from the belen with fairy-lights
and lined-up on the counter to be wrapped.
A table of thirteen are clinking glasses
while their teen punctuates the celebration
electrocuting mosquitos with swat racquet.
The TV reporter tells us:
that light rains are to dampen
The Black Nazarene procession.
A couple overheard near the banyo,
Children are part of society,
we could always adopt.
A scooter rider places his helmet
opposite on the table for two,
he drowns his bangus in suka.
We count out a tip for Adel and leave,
notice the empty space in the crib.
We stand on the kanto
waiting for a tricycle.

The mangos are ready to drop,
for the villagers to pick-up.

We were just unmarried then,
clasping hands within the week.

Scent of fruit ripening
amongst clothes,
unpacking my suitcase.
I pull from my wardrobe your dad's barong,
hang it – shoulders and all – from the door casing,
billowing and twisting in the wind,
the sleeves reach out a hand.
Then I tugged at my cuff in company
of godparents to keep tattoos concealed.
A long drive to the party in Batangas
like the Beverly Hillbillies,
teaching me to count and days of the week:
isa, dalawa, tatlo...

Cooks having a crafty smoke at the stove,
turning Cebu lechon over a pit of coals
and the pig is smiling at his fate,
basted in his toffee-coloured glaze.
There's a private chapel strung in lights,
a life-size plastic Jollibee looks on.
The men in the group drink two fingers
of Emperador brandy – they call Empi
and point with their lips at the bottle
to hand it around the circle.
You're laid on your back like Huck Finn
only a big toe twitching
like a stub of ginger.

We are sat at the table waiting for food,
you mention your fondness for Glen Campbell
'I hear you singin' in the wire.'
I'm chewing on a something going nowhere.
We are planning to become family
and it's more photos stored on a phone
to be shared online with OFWs.
In Sheffield, I am pulling creases
from your barong I may wear tomorrow –
a tang of smoke wafts, catches my throat.
Finding a way into this poem,
tricky as packing a balikbayan box
sent back from OFWs.
You see them on the conveyor belt
the globe squeezed into a square
from diasporic addresses
of the Filipino spread
their kababayans forced to cross oceans,
to provide for their families.

Ate Jen working the NHS frontline,
Kuya Don in the Middle East,
or Erika cleaning in Barcelona.
All watch siblings grow via a phone screen,
or bedtime stories in the afternoon.

Boxes are filled with candy,
letters, books, and tins of Spam.
Cast off clothing with life still in them,
or basketball vests and baseball hats.

On my return to Metro Manila
I am weighing scales with pasalubong.
We will have a home welcoming meal
with cousins hardly recognisable.

Firstly, I pick out my old Dickies shirt,
a cousin in my pair of combat boots,
my checked shirt on my aunt –
it's my personal ukay-ukay store.

Then my Levi's 501s on my lolo
that knock ten years off him,
the amount of time we have lost.
The above named are to be assessed
by the U.K. Decision Making Centre.
Please provide the following documents:
your wedding and family photographs.

Will they look into our eyes,
or at a certain way of holding hands
to point out something not ringing true?
And then the transcripts of conversations,
will they twist and frame what was spoken?

But what about what was not said?
We decide not to mention the priest
who wore trainers underneath his vestments,
only photographed from the waist up.
A taxi driver from across the way
agreed a price to take us on a tour.
His notched face and loosened tongue,
told us about –
'a vast and thoughtless head of concrete
looked down from shrubs over the land,
the wrinkled lip, and sneer of cold command.
Thirty metres high they built his greased quiff,
two years 'til completion, the year of 1980.
It's claimed the Ibaloi were forced to sell
their land for low, low prices.
They drained blood from pig and carabao
and flooded the bust in an exorcism.
This followed the '86 People's Revolution
where placards read:
Suko Na!
Talo Ka Na!
Marcos Layas Na!
In short, You've lost! Marcos run away!
Then just after Christmas in 2002
treasure hunters or New People's Army
did what you see today.'

Did the dynamite make Marcos sing?
Were they like the Numskulls
whispering into the President's ear?
His brains are now blown inside out,
they've left him barely a frown.

You'll have heard his words aired by satellite,
under the shadow of Imelda,
her sculptured hair, heels perched in stilettos.
Look on my Works, ye Mighty, and despair!

Our tour guide fans himself,
with a waft of banknotes
slotted between his fingers and thumb,
he sneezes three times.

A long toot at the horn as we sound off
into a wheelspin leaving enough
dust to pack the nostrils like snuff.
It was when you leaned over and whispered,
after our meal, the stick dance started,
and you taught me the word tinikling.
I could feel the tamp, tamp of bamboo poles
rise from floor to white flab of my thighs
and you'd never seen a dancer snapped
like a rabbit in a gin-trap.
We were on a two-for-one deal,
I wondered if I should sell my watch,
strapped to the inside of my wrist – ticking.
Your legs stiff as chopsticks,
under the table cross around mine
which is when I knew.
We sit upright,
two chess pieces – king and queen.