Separated from the Sun
poems by İlhan Sami Çomak
Edited by Caroline Stockford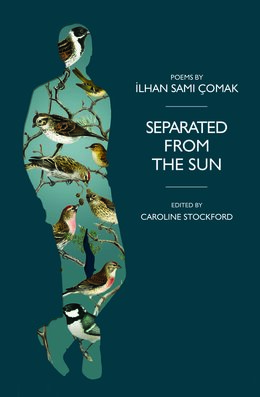 İlhan Sami Çomak was arrested in 1994 while he was still a student, and charged with membership of the banned Kurdistan Workers' Party. After 19 days of torture, he signed a confession and was sentenced to death for the crime of 'separatism'. The sentence was later commuted to life. The European Court of Human Rights has since ruled that the conviction was unlawful. Although he has twice appealed against his conviction, both appeals were unsuccessful. After 28 years in prison, the last 7 in solitary confinement, İlhan Sami Çomak is now one of Turkey's longest serving political prisoners. He has always maintained his innocence.
Translated by Canan Maraşlıgil, Öykü Tekten, İdil Karacadağ, Sevda Akyüz, Şakir Özüdoğru, Paula Darwish, Clifford Endres and Caroline Stockford.
From prison İlhan Sami Çomak has published nine books of poetry. He has won the Sennur Sezer poetry prize (1999), the Metin Altıok prize (2022) and the Norwegian Authors' Union Freedom of Expression award (2022). He is an honorary member of PEN Norway, PEN Cymru and PEN Austria. Separated from the Sun is a representative selection of poems from each of his books – including his most recent collection, Hayattayız Nihayet – delicate and courageous attempts to reconcile himself to a world without flowers, rivers, seasons, women, or the fresh-baked smell of sesame bread.
Cover: Nazlı Ongan
Author photo: İpek Özel
Sample Poems
There are no kids scaling back walls
to skip school. No human bond of good
making friendship from mere words.
There are no stones for throwing stones
No flowers pooling dew, no rivers
overflowing the map. No fresh-baked
smell of sesame bread to summon up
a crowd. There are no women
of selflessness and beauty, no possibility
to stretch out on grass and test the
constancy of sky. There is no candle,
just as there is no lamp. No darkness.
There is absolutely no darkness.

There are no turnings of the seasons,
no eclipses of the moon. No earth,
no plants in their simple elegance.
No cat's paws, no sweat-drenched
headlong of a horse. No curtain
for breeze to life, no mouldering
bunches of grapes.

Life; separated from the sun.
There's no direction here.
But there is a way out.
Always a way out.

translated by Caroline Stockford
What I know of the sea is so little
yet all I want to do is swim!
Without leaning too long on reality
I'd like to view all my memories
one by one; leisurely.

I'd like to go, for example, to your dream world
where you open the window and walk
where you rise and weave
your fingers into unkempt hair.

Rains wander your face, the gentleness
of dew is in your voice.

Let each and every spring be yours!
May all mountains tire and arrive here!
Here at the place where stars have spilled you
where waters flow; the place where you say
Curl up on my lap and let birds take flight
In the place where we collected questions
such as 'what was before words?'

What I know of love is so little!
Yet I'm constantly thinking of you!

translated by Caroline Stockford
I got up and walked
Lifted my head to the sky
and pulled the width of its vacancy towards me.

Its hands of flowing blue shortened my stride
and I stole the scurrying and the chill of clouds.

I was alone.

I thought of myself as a shower of rain
embroiling itself with winds and their
fishtailing roar.
A rain of the colourful breath of
horizons that opens sunlit flowers
I remembered how snow falls
The relationship of shadow to existence
and a few other things.
Daybreak came following those long nights
I tried to wake up, to remember before and afterwards.
I got up and walked.

translated by Caroline Stockford
The napkin smeared with lipstick
you left upon the table – I carry it,
always, in my pocket.
Your smile and just-brushed hair
I carry in my mind, the scent of you
I carry in my palm as an undying rose
the smell of your breath when we kiss hello,
I carry in my surprise.
In my anger I carry those who look at
you, walking. In my excitement
I carry the rhythm of your step
curve of your high-heeled shoe
In my dreams is the sound of your dress
as you step out and it
In my sleep I carry the lightness of you
falling on my bed
In my loneliness I carry the sound of your voice
breaking into music
Every letter of you, their tone and inflection
I carry one by one in my eyes
The meaning of your dreams I carry in my fantasies.
I carry the freshness of the water you drink
In my mouth.

translated by Caroline Stockford
Take me away from here, I've seen so many things
I've seen so deep, so far. Long, long have I been saddened.
The time has come for mountain springs, for winds blowing
over the harvest and for the
Time for the endlessness of my shaking legs
heading towards the horizon as day opens its great door
Comprehend me from my root, not from my branch
Understand me from my dream, not from the life I've lived
Maybe the mirror is in pieces
Know me by my laugh, not by the mirror's talk.
For so long my street's been peopled with absence
With ivy's soundless climb
Its swallow: shady, slow, and always half-way there.
Take me away from this stagnation
I've seen so much of the abyss, long, long I've stared at it
That void is just repetition.
It's time for you to say you're a bird that is wetted in rain
It's time to breathe the smell of soil, fill with it, grow with it
Know me by my love, not by my loneliness.
Comprehend me from what I long for, not by what I have lost
Understand me by my childhood, not by the present version of me.
I'm coming in search of you.

translated by Caroline Stockford