Dummy!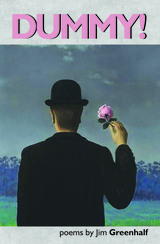 'I am the man who abandoned Alan Bennett under a bus shelter in Armley,' writes Jim Greenhalf in his new collection. It's partly an instruction manual for dummies on how to hack out a kind of contentment in spite of the times, even if you have an inflated prostate and 'a pig's bladder of piss' strapped to your leg. Dummy! is also a book about History. It's a reverie of times passing – 'when peace was love/and love was free for all/who could afford it' – a howl of mockery, and a refusal to join in the triumphal march of post-Modernity. It's a study in difficulty and dismay, and an attempt to praise the mutilated world in spite of all its disappointments.
Front cover: René Magritte
Cover photograph: Lesley Thorndyke
Sample Poems
To give and not to count the cost,
to fight and not to heed the wounds,
to toil and not to seek for rest,
to work and ask for no reward...

Old Christian injunctions
slide through my head
as the southbound train out of Leeds
picks up speed for King's Cross.

Prayers did not bother me
in the days of steam and diesel,
when carriage windows and doors
were not centrally locked.

Nor did mortal panic erupt
when the train inexplicably stopped
between Elland Road and Highbury.
Have I come so far only to be fearful?

Stillness increases with speed.
And so does wondering why
those coercive injunctions didn't die.
Football stadiums and churches on the left,

Eddie Stobarts on the roads,
a mountain ash the Brontes might have known
above Heptonstall.
things have vanished or grown

like Peterborough, Grantham, Stevenage:
stations of the cross and moderately unhappy.
Tragedy, like the sea,
takes no account of biography.

arrival is still a surprise.
Looking out from the seventh floor
of a riverside hotel (its windows open)
for a skyline I might recognise.
I am asked daily to sponsor
a jaguar, an elephant,
a child drinking dirty water.

I am asked to consider the future,
of the children I do not have,
grandchildren, none of them either.

My loved ones, what of them when I'm gone?
They will carry on, I imagine,
minus the burden of me

to carry along the road to heaven.
An inexpensive cremation,
paid in advance or instalments,

will make everyone happy,
I am told, and I'm shown
pictures of people with perfect teeth

laughing on patios, handing out
bubbly in fluted glasses.
I could be this happy,

if I prepare my death
warrant in advance.
Then I am asked to consider

saving a donkey,
a rhinoceros, a country,
to make myself feel better

before I too turn the corner
to the future,
that has no sponsor.
You should have seen me in the park this morning,
reading Shakespeare, Donne and big Ben Jonson.
For an hour not even the owners of designer dogs

could yap away the peace I'd picked from the pages
of my old book. Nor the mothers who had shucked
more children than garden peas.

The world is full of violence, selfishness and fear.
The grey heron, attuned to something more purposeful,
waits in the weir ever hopeful of fish.

And I am happy to be behind the times,
not waiting for windows or doors to open;
I am not a lift that's stopped between floors.

I try not to add to prattle. I threw my mobile in the Thames
after wasting half a day trying to supply it with power.
Its last texting place among broken Nazi bombers,

John Donne's old boots, the roots of Plantagenet trees.
Those not on the way up must be on the way down.
Or stuck. I am not making plans.
The unholy fires of V1 and V2
that martyred London before my birth
have been subsumed. Now dragon's teeth bunting
celebrates VE, the day of victory.
Regatta-like loops of red, white and blue
in May morning sunshine.
From lamp post to lamp post
their vapour trail goes
along the length of the path of shades
to the chained gates of the United Reformed Church.
Outside its tall doors painted Prussian green,
I am sitting with William Tyndale,
under beeches, between river and railway.
He tells me that faith is the substance of things unseen.
A page-turning breeze sways the bunting
and brings the smell of bread and roses
westwards from the canal.
The periscope heads of Canada geese
spy out the horizon.
Under the boot-heel of occupation,
under the threat of lash or fire,
how do we carry on or even start,
unless love beyond conniving be printed
on the hard-drive of the heart?
Ye are many, they are few.
Of course, in May 1940,
the reverse was true.

Since then the few
have become the many,
too many to please

and tease indefinitely.
Too many who will not do
as they're told.

Should you choose
to raise your voice,
you must mind your p's and q's,

in case your tongue
prompts nurse to come
and remind the many

that they are few,
and that where they stand
is not their land.
Hope is the last thing that dies.
The world does not need more
dummies who think they are deserving.

If you expect a special place, a spotlight,
you are probably more of a mirror,
holding yourself up for others to admire.

Smash the glass. Don't expect a career;
abandon all hope of further or higher:
there are too many like you already.

Writing won't save you, words
will only make you bitter.
You are merely a mouth making faces

at yourself, another fish out of water.
Take the plunge: aspire to something better.