Beans in Snow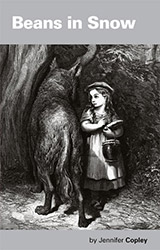 Childhood smells of gingerbread and hot porridge. It wears red shoes, glass slippers and seven league boots. And everyone lives happily ever after. But it is also a dark wood full of hungry giants, big bad wolves and child-sized ovens. It is a place where 'brothers and sisters get separated - / boys turned into swans, / girls put into tall towers / where they have to climb down their own hair / to escape, then wander the earth / with thorns in their eyes.'
Beans in Snow is a stunning exploration of the world of childhood, its consolations and cruelties, real and imagined. Like Angela Carter, Liz Lochhead and Viki Feaver, Jennifer Copley is fascinated by the way we act out stories from childhood in our adult lives. Trying to find her brother after his death, she becomes Gerda, Gretel and the goose-girl, making sense of his death in memory, in imagination and in the power of story-telling. Beans in Snow is not just a brilliant and original re-working of some well-known fairy-tales, it is a book with something profound to say about childhood and growing up, about fear and belief, and about our enduring need for happy endings.
Sample Poems
In fairy tales, only the good fairy wears wings.
Others are too hump-backed
or, beautiful but wicked, appear
on frosted sleighs when no one's looking,
slide ice splinters into untrue hearts.
Even brothers and sisters get separated –
boys turned into swans,
girls put in tall towers
where they have to climb down their own hair
to escape, then wander the earth
with thorns in their eyes.
They stretch out their arms in front,
cock their heads to the music of the red shoes.
Children, smelling of gingerbread,
cry out to them from cages.
They're only fairy tales, say our mothers,
who serve us porridge that's far too hot;
and who are they that we should trust them
when they prick their fingers,
drip their blood onto snow, then die
after telling us they'll be there for ever.
There are holes in everything she owns:
dress, shoes, the roof of her house.
As she shuffles home,
the wind finds her ears,
shoots down them, makes them ache.
She needed more marzipan.
Mice have been nibbling
and one of the gingerbread walls
is caving in. When she gets back
she'll break another piece of chocolate
from the door jamb, suck it for warmth.
Last night snow blew down the chimney,
sat hunched in her chair.
It's the only company she has
but the house should bring them
sooner or later – ragged children
tiptoeing up her path,
their rosebud mouths
opening for barley sugar.
I've grown my hair.
Nobody knows. I keep it
in one long greasy plait
inside my shirt.
At night, when they check on us,
I lie on it.
Sometimes I play Truth or Dare
with the others. We make the fat girl
open the window, give sharp little shoves
till she climbs out, stands on the sill.
She pukes when we let her back in.
It will be different when I do it.
Tonight I'm dreaming of hair–cuts
I used to have. He'd put newspaper
under the chair so not a strand was lost.
Snip, snip, snip.
I'd hold my breath
so I couldn't smell his hands
then he'd make me clear up,
tip clippings into a bag in the cupboard
weighted down with a stone.
When he was arrested,
he wouldn't tell them why he'd kept it.
It's a full moon tomorrow night.
I've stolen scissors from Domestic Science.
Soon there'll be a draught round my neck;
I'll be light as a ghost.