Ferocious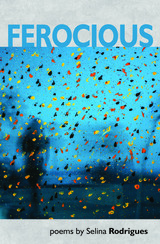 Selina Rodrigues' much-anticipated first collection takes a long look at the invisible ecology of contemporary urban living and working – call-centres, computer screens, night-shift cleaners – and the competing structures of time and money, labour and desire. It's a book about online desires, migratory workers and childcare, and the flat-packed silences of alienation, all framed by city skylines.
Cover image: JR Korpa
Sample Poems

Her baby growls on waking
as the metal blinds rattle
in eagerness and Rahena clicks
fluorescents awake, stares at machines
and starts to count 10s, 20s, 50s
in her third brisk shop. Prepare
early. A last secret lorry rolls
through the city, she wonders
which floorboard gave slightly then,
a tendon of the building that pulls
and yields, whilst the curved palm
of moon fades in the lightening
and birds start to chatter.
A man wheels his cart
pausing, bending, collecting
and Rahena sees his lips move as if
he murmurs the morning.


electricity loops around us, we are
deeper than skulls and mosaics,
than jewels. Clutter of a platform
trails away. Thoughts are thin
behind transport faces as we breathe
a newspaper's ink, sense warm hands
on metal. Who is the stranger now,
masked, or with lit cells.
We are careless, torn headlines
underfoot as we sway
westbound, your chest, my thigh
are all our bodies. Forget
the pre-paid minutes and miles.
Let's never arrive. Here it is –

containment. My mouth's
morning fur is as warm
as this tunnel. Even the stray bag
is tight within us. What is the danger
now. We dream of each other.
We want our rehearsed real fears.
Flecks on your shoulder
are to my lips. I trust you passenger,
no buds of conversation
opening around us. We are in awe
of the cave, held in arches
and in water as you sigh
in my ear. Our risk meaning
– nothing – anything – to me.


The morning star, a key at my shoulder. At 5am I walked 6 miles
to school. I was lucky that we could pay. My parents were bored
of learning. I was their fifth. One day ma squeezed me through
the window to pa to push his knees where he lay, and I unlocked
the door. We say carry only enough for your journey. I was spat
to town, then to city, then another. Always space for quiet ones.
Now, even oldest sisters want me to call in my calls, at 10, 11,
midnight. Could be our last talk, they say.

Lights waver
across the Bund
like thread
we are not afraid
of colour
at our feet
we cannot fear
the future
and the skyline
is my future.


Dear Boss. Today your head is full of rain.
Your husband wept, you scraped plates at 3am

and still brought pastries. We watch. You are kind.
Children run the office in your eyes,

they run your heart with laughter. Imagine.
We are all hands to this juddering system.

Aire Street's window is open a hair's-width
enough for you, a thin, steady breath.

As sun sparks day, my wired head turns.
Lambs are eating, dying, calling. It's the season

you say. Leave early because now the earth
is open-mouthed and fields are torn for birth.

So hours pass through us until I trip
down tilting floors into ferocious spring –

– the city's form – feathered grey, slash, drop blue
contained new buds. Dear Janie, away from you.

Rain falls again from untrustworthy skies. I need
the moors. For you, only commitment is right.


The swan bridge stretches and holds the tide
and streams of hurried, stray commuters.
A measured, silver wrap is at her side.

Lou undoes her cuffs and inhales powder.
Like ancient, herded sheep across a bridge
the numbers bunch and then disappear.

By day, at her desk the hundreds
of zeros run over the screen. She flicks
her fingers and shuffles the queen's head,

the queen's head. By night currencies slip
through other careless hands and Lou sighs
beside her low-slung, hollow bridge.

At last on a drift of powder she lies
bare-legged, with silt covering her toes.
The words repeat, I promise that I –

I promise to pay. Away from the rows
of digits and decimals, this water
takes trillions and endless zeros.

Louise bends towards white scurf and there
beneath the swan's wings, tastes the river.


I don't know what I'm doing here. A strange
open thing to say. You don't usually speak
and we don't watch shadows fold and change
across our desks or mark the sun's gentle reach.
It's the afternoon hush and your voice is low.
You want to live in a different place,
to leave in spring, a delicate time to go,
to cross a border's paper-thin crease.
Elsewhere – beyond these keys and screens
go – open maps under mosaic roofs.
Learn new notes from score or memory
and sleep enveloped, as the proof
of paper cuts heal. Jac, in April's raw
spring light, open the day's atonal door