Chips, Paracetamol and Wine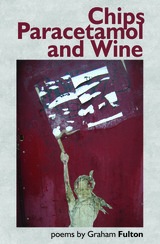 Chips, paracetamol and wine. The things we need to keep us alive, and the things we need to dull the pain of being alive. These are poems about the weakness, foolishness and brilliance of human life, places rarely visited, poems without convenient endings. Hopeful and hopeless, detached and engaged, this is a book about dunderheids and smackheads, lost cats and stuffed dogs, Charles Bukowski, Jimmy Johnstone and Kylie's golden pants. Chips, Paracetamol and Wine holds up a mirror to the world, reflecting the chaos just below the surface; just the way things are.
Sample Poems

Ricky the dunderheid
has been putting all of the right mail
into all of the wrong letterboxes
with a cheery smile on his face
and a low intelligence quotient
in his brain
according to his superior postman
who told me Ricky's a pure dunderheid,
av telt im time an time again
tay check thi names on thi doors
but he's thick as mince,
and there are people
opening telephone bills and electricity bills
and threatening letters from debt collectors
and love letters
and hate letters
and the latest copy of Poets' Wives
and the latest copy of Shit Science
and the pricelist for Little Psychopaths' Nursery
that should have been delivered
to different inhabitants,
and it's happening so much
people are doubting
who they are and what their names are
and wondering if all their precious memories
of childhood and dead parents
and foreign wars you can't possibly win
have been artificially inserted
into their minds,
and if they are in fact Mrs Mussolini
from the next block,
or Mrs McGlumphit from the top floor,
or Mr Plott from the ground floor,
except for the ones who get no mail
at all like us who have always known
that we don't exist


sitting in the Scotia
after John McGarrigle who-
was-killed-in-the Clutha's funeral,
wolfing
triangular tuna sandwiches
and listening to someone singing
We Shall Overcome
into a feedback microphone, I ask
Bobby Christie
if he remembers walking home
twenty-five years ago
from Tom Leonard's Writers' Group
in Paisley in the dark
with
towering orange streetlamps
and turning left into Penilee Road
where a cop in a panda
wound down his window and asked us
what we had in our bags
to which we shouted POETRY!
in unison,
lifted
thick majestic photocopies
and Poems of Thirty Years
by Edwin Morgan into the air
as he looked on in horror
and told us to be on our way
and not to do it again
and Bobby
disappeared over the hill
as I turned right into Atholl Crescent
to go to a house where I no longer live
to talk to people who
are no longer there,
and Jim Ferguson
is wearing a burning red tie
and brandishing a virtual cigarette, and
We Shall Overcome was sung
by Joan Baez in 1963, it's really
hard to believe, it feels
as if yesterday
has still to happen, tomorrow
is already gone


this couple have a dog
a sort of dog off the leash
with a small laughing son
and it's
biting the swan on the wing
in the park pond
biting and tearing at
its wing
with the white wing flapping
and the dog snarling
and the couple calling
TOBY TOBY
STOP IT TOBY,
but not
caring
and looking at me
looking at them
and knowing
they've been seen
but not giving a flying fuck
if a beautiful life dies,
and their laughing son
laughing and not giving
a beautiful fuck if
the swan lives or dies


three junkies
huv jist gone up that road pal
three junkies
huv jist passed me
wan aftur thi other
az ah stood here in thi rain
an they wur aw
lookin at ma bike
ma thousan poun bike
each wan
wuz
slowin doon
an eyein up
ma thousan poun bike
fur fuck sake
wan hud a ginger bottle
in iz haun
az e slowed doon
ah cud see it in iz eyes
oan a Saturday afternoon
three junkies
huv jist gone up that road pal
so jist watch yersel
an huv a good day
an if another junkie
so much as looks at me
ahll kill thi fuckin cunt


Glasgow, 13/7/2018


FUCK OFF
YOU TINY-HANDED
ORANGE-FACED CUNT
painted
in red
on card
is one of the less ambiguous messages
at the Death to Donald Trump rally
in George Square in the sunshine
as is
BAWBAG
TRUMP'S A FUD
RAGE AGAINST THE TANGERINE
TRUMP'S AN EEJIT
said in a bubble by a stuck-on cat
a pussy on a placard

a Saltire saying FUCK OFF YA FANNY
a Welsh dragon saying I HATE FASCISTS

as
babies dreaming in prams
and not in cages
obliviously mix with ministers
political or religious
activists and re-activists
urologists
sociologists
anarchists
telephonists
taps aff sunburnt bampots
dogs with signs
saying PUGS AGAINST DESPOTS
toddlers with signs
saying TODDLERS AGAINST TRUMP
old ladies booing when prompted
cannabis smokers
energy drinkers
muslims and atheists
and candlestick makers
FUCK OFF YA RACIST CUNT
DONALD WHERE'S YER CONSCIENCE

a Buddhist monk who's had enough
holding a sign that says
TRUMP'S A MUPPET

two orange balloons
in a transparent bag
which looks like a big orange arse
with a blond wig
as American tourists pass by
on the open-top sight-seeing bus
taking pictures and saying
Oh Elmer, isn't this quaint!


There was once a moment before
Jim Baxter played keepie up
at Wembley in black and white, and then it was there
and then it was gone,
there was once a moment before
Tommy Gemmell booted
Helmut Haller up the arse
prior to being sent off in 1969, and then it was there
and then it was gone,
there was once a moment before
Joe Jordan came flying in
to head the ball in 1973,
there was once a moment before
red-haired Billy Bremner
shoved red-haired Jimmy Johnstone
out in a rowing boat at Largs
when they should have been
tucked up in bed,
there was once a moment before
Joe Jordan scored against Yugoslavia in 1974
and Billy Bremner hugged him to death
with a mixture of joy and pride
and sadness and regret, and then it was there
and then it was gone,
there was once a moment before
Kenny Dalglish sent the ball
between Ray Clemence's legs,
there was once a moment before
the Wembley crossbar cracked in two,
there was once a moment before
the ball was given to Archie Gemmill, and then
it was there
and then it was gone,
there was once a moment before
David Narey stuck out his toe,
there was once a moment before
James McFadden hammered the ball from 30 yards,
there was once a moment before
Leigh Griffiths took a free kick
against England after 87 minutes,
there was once a moment before
Leigh Griffiths took another free kick
against England after 90 minutes,
there was once a moment before
Harry Kane equalised three minutes later
which we all knew was going to happen,
there was once a moment before
sometime in the future
when we finally qualified at long last, and then it was there
and then it was gone