The Heartless Traffic
New and Selected Poems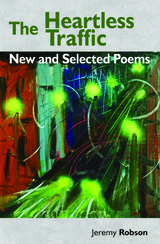 After breaking a thirty-five year writer's block with two books in quick succession, Jeremy Robson selects the best of his poems from a long life in poetry, including his first books from the early 1960s, his recent collections Blues in the Park and Subject Matters and some fifty new poems. The Heartless Traffic is a book about childhood haunts, Jewish roots, youthful passions and the rumbling of war; about nights in Soho, Venice, Paris and Rome, the mysteries of Cairo and the alleyways of Jerusalem; and about some of the artists Robson was close to over the years, including Vernon Scannell, Alfred Brendel, Michael Garrick, Ron Moody and Dannie Abse. Witty and fond, original and compelling, The Heartless Traffic is a book about change and regret, politics and jazz, love and loss, as Robson looks at a world under threat and listens to the 'the heartless traffic / in its endless race to God knows where.'
Sample Poems

So much drama waiting to be unleashed,
though for the moment, poker-faced, cold,
the large screen waits impassively in the
silence of a curtained room. Yet nothing
will come to be unless I turn the switch
to On, and so decree.

There'll be no ashen-faced political set-tos,
no panicking herds fleeing a lion's claws,
no thrilling shoot-outs at Wembley or the
OK Corral, no arrow piercing Harold's eye...
and poor, tormented, soliloquising
Hamlet will never decide.

With radio too, on/off, on/off, much
the same, an endless power game.

Last night, as I drove abstractedly through
the hypnotic darkness of a motorway,
La Traviata rose towards its heart-breaking climax.
A live performance it might have been,
but there was death in the air.

Overwhelmed by the beauty of the music
and Violetta's impending demise, I pulled into
a lay-by and turned the radio's switch to Off.

While I'm in control, I told myself, she'll never die.
Rain, like tears, was running down the window pane.
Passing cars flashed their lights uncaringly.

If only we could press the pause button
in real life, cry Stop when tragedy looms,
death is about to strike. But when fiction
becomes fact there's no release from that,
no lay-by to pull into, no turning the engine off.

Eventually I switched the radio back on. Just the
sound of applause. The audience, I imagined,
now on its feet, the singers, the conductor, taking
well-earned bows, flowers from the wings.
Freed from the plot, Violetta, hand in hand
with her lover Alfredo, had sprung back to life.
A true diva, she'd live to die another night.

As the applause gave way to an announcer's
voice I turned the key and waited for the
engine to revive. Then, pulling back onto
the motorway, I joined the heartless traffic
in its endless race to God knows where.

So much drama waiting there.


It should have been a relaxed postprandial stroll
down a quiet country lane, and so it was until
three small dried-up corpses caught my bleary eyes.
I blinked, thinking that drink had got the better
of me, but no, there they were, folded over the top
of the barbed wire fence skirting a nearby field.
Rats, I thought, but why, gazing like that at the evening
sky through what must once have been their eyes?

Though they'd stopped me dead in my tracks, I wasn't
as dead as they quite clearly were. How long they'd
been hanging there I couldn't say, but from the look
of them it must have been for quite some while.

'Not rats,' the farmer informed us laughingly when
next we met, shrugging his large Gallic shoulders,
'they're moles' – a laughing matter for him perhaps,
steeped in his country ways, but not for us, and
certainly not for the moles he'd trapped and hung there.
'An old Normandy custom,' he said. 'Hang a dead mole
at the boundary of your field, and live ones will keep away.'
'Flee for their lives,' is what I thought he'd say!

I looked at his field, not a molehill in sight, only some
lambs that bleated appealingly as we passed. No
doubt their fate too was in his questionable hands.
Returning silently to our own small garden further
up the lane, nothing but molehills everywhere, a
battle long lost. Hardly a patch of green to be seen.

That night I lay sleepless, thinking of that cruel local
custom. An old Norman one it might have been, but
what else did they protect themselves from I wondered?
Demons, heretics and witches in the superstitious past?
The dukes and barons who had ruled their lands
with iron hands? The Germans who'd invaded them?

From early on it seems we've always needed something
to protect us – flying phalluses carved on the pillars
and gateways of mighty Rome to keep the evil eye at bay,
still worn on amulets today, a scroll on the doorposts of
Jewish homes, the walls of many Middle Eastern houses
painted blue, and blue stones too on rings, bracelets
and necklaces to keep that same feared eye away.

So many old and trusted practices, but when armies invade
and evil reigns, when doors are smashed and families
dragged away, what use are they I asked myself as I turned
uncomfortably under the protective covers of my bed,
nothing but negative thoughts swamping my head?

Next day, passing that field again in the full-on sun, they
were still hanging there, those withered moles, but at the
back of the field I spotted a line of small mounds, the fresh
earth slowly rising. It was as if an underground army was on
the march, and as my mind began to clear I wanted to cheer,
realising that a battle lost can become a battle won, marvelling
as the moles moved their hills forward defiantly, one by one.


with thanks to Geoffrey Paul


It seemed as large as a continent,
that magical park I'd hurry to whenever
I stayed with my religious grandparents
in their rambling old house in Leeds.

Still too young to venture there alone,
I'd badger an older relative or friend
to accompany me so I could kick a
ball around, dodging the flower beds
that dotted the extensive lawns, and
bowl at makeshift stumps.

Sepia postcards in my mind recall the
large open-air bathing pool we'd rush to
on timeless summer days, and the wooden
jetty on the lake from where we'd throw
bread to inquisitive swans and stare at
quicksilver fish until the falling sun threw
shadows over the rippling water.

Roundhay Park, the name itself still
retains a hold over me stronger even than
the larger-than-life heroes in the biblical
stories my bearded grandfather would read
to us in front of the large log fire in his draughty
sitting room, while I sat mesmerised by
the glowing embers in the grate and by the
dramatic exploits he'd powerfully relate.

But they couldn't really compete, those awesome
characters and tales, with the exciting park and
the clattering trams we'd catch to get there once
the Sabbath was over and we had the all-clear.

*****

Those adventurous visits ended abruptly
when my father's parents went heaven's way,
to be replaced by Hampstead's extensive heath,
which became, with its ponds and endless
twists and turns, my teenage stomping ground.

I climbed the giant trees in the wooded areas,
bow in hand, thinking I was Robin Hood and
this Sherwood Forest, where he'd rob the rich
to give to the poor – something, despite my
early socialist leanings, I could never quite
bring myself to do as I dreamt the days away.

At Easter and Whitsun there were always several
music-blaring fairs, and I and my friends would
hurry to the ghost train, devouring candy floss,
and commandeer the bumper cars, cutting each
other up, preparing for life. The thrill, and the pungent
smell of fried onions and hamburgers linger still.

Later, when girls came distractingly on the scene,
Sundays by the lake at Regent's Park were the
competing draw, and when luck struck we'd
help this or that one onto a narrow wooden
boat and row her manfully, trying not to splash
or overturn, seeing what favours we could earn.

*****

Wild oats sowed, married and the father of two,
we'd walk our twin daughters in Golders Hill Park,
bordering Hampstead Heath, looking at the deer and
the flamboyant flamingos, at the watchful owls
and exotic birds in the park's mini zoo, delighting
the children, taking their breath away.

These many years on, I continue to walk regularly
in this gem of a park, thinking back, searching
for words, as I pass the spacious animal enclosures
and stroll towards the Victorian grandstand and
the Italian cafe on the hill, sometimes pausing there
to watch the ducks perform their amusing cabaret.

This was 'Dannie's Park', a mutual friend who lived
nearby declared when I told him of my frequent
wanderings there. And indeed, in many ways it was
and is, for this is where the poet Dannie Abse loved
to stroll, as I do now, lines and poems forming in
his head as he stared abstractedly at the primroses
and daffodils that heralded a new season.

Dannie's Park, especially after the crash that snatched
his wise and gentle wife Joan from him in one of life's
cruel turns, leaving him shaken in mind and body.
I visualise him there, his landmark mane of thick
white hair, whenever I approach the bench by the cafe,
thinking no doubt of his lost muse, searching for
a word, the word, for there are many words, he
always said, but for a poem only one right one.

And nearby, stretched out on the ground, leaning
backwards on her arms, in pale blue shorts and
a singlet through which her breasts protrude,
sandals lying casually beside her long bare legs,
the elegant statue of a girl waits invitingly.

There should be a plaque there for Dannie,
with a line or two from one of his poems.
It would be his Poet's Corner where friends and
admirers could gather once a year, read a few
poems, chat and laugh as he'd always do,
keeping his name alive as we endeavour to.

And hopefully that long-limbed girl he would not
have failed to notice, would still be there, listening
invitingly, ready to chat. He'd have welcomed that.

*****

The seasons turn and the years burn, in
Golders Hill, in Roundhay Park, as in the many
other parks we've visited over the years, but
spring and summer always return, and so I take
my turn, stepping up, filling the pages as best
I can, while the impassive lady in blue looks on,
her smile and falling hair firmly in place, waiting,
watching to see who next will take the stage,
as the sun revives or the lengthy winters rage.


for Eilat and Yehuda


I was teenaged and full of wonder
when first I glimpsed Jerusalem's
magical hills, approaching them in
a packed Egged bus as humid day
gave gradual way to slowly spreading
night. However often one makes that
journey, it remains a thrilling sight.

By day, by night, I paced the city's
sprawling streets, marvelling at the
pinkish colour of buildings whose stone
seemed to have absorbed the light of
an insistent sun, and later at a sky so
bestrewn with stars it seemed unreal.

As I scampered among rocks and cypress
trees, ignoring the heat, it felt as if pages
of the Bible were strewn about my feet.

So often sung about, in both joy and
lamentation, Jerusalem may have endured
many conquerors over the centuries, but
the burnt-out armoured cars that lined the
old road from Tel Aviv were a reminder that
its history is not a musty one, and all around.

We were not then free to enter the Old City,
lost to Jordan by the fledgling Jewish state
in the war of forty-eight, and I would stare
down at its walls and ramparts little more
than a stone's throw away and at the rifles
pointing up at us. They looked like toys but
I was warned to keep my head well down.
I thought of David and his sling, of mocking
Goliath and the stone that felled him.

Visiting with my wife some twenty years
later, after the Six-Day War had brought
another bloody twist in the city's fate, we joined
the throng pouring through its now open gate.

The world beyond the Jaffa Gate was for me
an oriental wonderland – the scent of many
spices in the air, the rows of shops huddled
invitingly on both sides of the narrow pathways,
the Arab shopkeepers arguing and bargaining
with the tourists eyeing their colourful displays.

But for my wife, born and raised in Alexandria,
it was a familiar enough landscape, taking her
back to a childhood that had been snatched
from her but to which she would often return
in unsettling technicolour dreams.

This, though, was no dream, and I watched
in silence as she took it all in, a silence
broken by a muezzin's call to prayer from
a nearby mosque. We needed no reminding
that this was a city of many different faiths.

It was only recently, after many years, that
we returned to walk the dusty streets and
alleyways of this mythical city, and there
was tension in the air sparked by riots
and explosions near the Dome of the Rock.
Soldiers stood by watchfully, taking stock.
Steered by cautious Israeli friends, we strolled
towards the safer Christian Quarter and the
Church of the Holy Sepulchre, conscious that
some two millennia earlier Jesus had been
made to walk those same streets, staggering
along the Via Dolorosa under the weight of the
massive cross he was to carry into history.

Many who'd come before him and many
who followed had shed their own tears in this
fought-over land, and asked their own God
in their own tongue why he'd forsaken them.
But nothing could have deterred the pilgrims
kneeling in the church that August day, while
we, strangers, watched quietly from the aisles,
not wishing to intrude. Outside, waiting beggars
held out empty cups and young boys pursued
us, proffering crude wooden crosses, pictures
of the crucifixion and other mementos.

As intense as the relentless spotlight of the sun
were the emotions that swirled around us, and
with relief we stumbled into a small cafe, glad
to pause, drink freshly squeezed orange juice,
eat a pitta sandwich, have time to think.
Further along, the black-hatted guardians of a
different faith prayed in the open against the
surviving wall of their destroyed ancient Temple,
rocking backwards and forwards in their fervour,
lost to the modern world, and to many Jews too,
some of whom looked on, as we did, uneasily.

As much a Jew as they, what is it I guiltily betray
in writing this? It's not for me, proud of my lineage,
to judge or say, for who knows what they were
praying to redeem or what terrors they had seen.

Here the past, stoked by fear, is always
near, and there are many voices in the air.

*****

The hills of Judea that circle Jerusalem are
where the Prophets roamed, and still today
their peaceful beauty would seem to be their
natural habitat, timeless and far removed from
a world of tourist buses and impatient cars.

Gazing across at them, it's easy to imagine
a Jesus or a Mohammed, an Isaiah or a Jeremiah
emerging from the early morning mist and dew,
bringing to this troubled land the peace the politicians
in their parliaments and the holy men in their churches,
synagogues, and mosques have failed to do.

In this city of dreams, nothing is as fanciful as it seems.


My eyes concave from watching
an enthralling Test and every bit as worn
as the ball they'd tirelessly thrown,
I felt in need of my own tea break.

The sun was relentless and the heat
at record height, so the nearby park
with its lawns and open space seemed
just the place to regain my head and sight.

And so it was, and more quickly than I'd
supposed, as my surprised eyes locked
on a woman lying face down, absolutely
naked, on the passive lawn of that normally
tranquil park. Such bare-faced cheeks!
Whatever she was thinking of, it wouldn't,
I imagine, have been of England.

Hard to ignore her, you'd have thought,
especially with a figure as enticing as hers,
but people were, men squinting out of the
corners of their eyes, smiling complicitly then
hastening on, mothers accelerating past with
their toddlers and prams, even the oblivious
squirrels continuing to play with their nuts.

But the two policemen who approached her,
helmets in hand, were not ignoring her,
summoned no doubt by an outraged citizen
of that bourgeois borough to do their duty.
But even they hesitated, conferring and moving
away at the last moment, for to turn her out
they'd have had to turn her over, and that, to
their relief, must have been beyond their briefs.

As for me, as I watched and wondered, I'd
forgotten all about the cricket, the score,
whether there'd be a follow on, a new ball, a draw,
and whether the batsman who'd been given out
just before tea really had been leg before.
It didn't seem to matter anymore.


There was just a handful of boys
whose names I vaguely recalled, and
several others who later won some fame,
their faces etched in a timeless frame.

And there was one boy whose name,
hidden in a list at the bottom of the page,
was the same as mine. Curious, I turned
the page with care, for after six or so decades
it had begun, like me, to show its age.

There I read, amidst the results for
that year's boxing bouts, how he'd
entered the ring at seven stone three
and won a hard-fought fight. The weight,
the year, fitted perfectly, but still it was
hard to believe that boy was me, though
memories of a make-shift ring in the
cold school gym began to stir.

What made him spring through the
ropes that day I cannot say, only that
the school motto was Serve and Obey.

There were other mentions of him in that
old school mag, but none about which
he'd want to brag. Nothing scholarly,
not a single prize – hardly a surprise.

It might have seemed an easy ride, but
it wasn't always so. Behind those silent
classroom walls, and down those long
endless corridors, hidden terrors lurked,
especially in the perilous early days
when every foot one put was wrong.

You never dared be late or forget
a book, or talk in class behind your
hand. Those gowned masters may
have seemed way past their sell-by
dates, but most knew how to scream
and whack. It all comes back.

I turn the pages looking for further clues,
recalling the societies and plays, the
grey-haired masters dressed for Corps,
the morning roll call and prayers in an
echoing hall where names were read out,
either in blame or in praise, or because
they were no more. Hard to ignore.

I returned there nervously one Open Day,
hoping for what I can't explain, but there
was no one there I knew or who knew me,
not surprising given the years that had
passed and with them all the masters and
many of those who were in my class.

Clearly that boy I was is fiction now, just
a fading name on a black-and-white list,
and I'm no more him now than I am the
man I was yesterday, or the day before.
Just a stranger rattling a long-shut door.


An evocative sound that stays in my head,
the steady ringing of the bell, the children's
high-pitched laughter, the organ-like
Wurlitzer music gradually slowing as
the merry-go-round came to a gentle halt,

which it did that summer's evening as I walked
towards it from the car park at the harbour's
edge, quickening my step when its flashing
lights came suddenly into view and the
steady looped music started up again.

'One more go, please just one more go,'
the children beg as they drag their compliant
parents towards the lengthening queue.
Always the same, one go never enough.
The ringing of the bell again, hurry, hurry,
the music reviving, the parents proudly
waving as their children ride by, some
waving back daringly. One for the camera.

How thrilling to be riding up and down on
the saddle of a wooden horse, clinging on
tightly as if approaching the winning post,
to be steering a vintage car or sitting in the
cockpit of a bright-red plane with spinning
propellers, dreaming of a cloud-free sky.

So real all this to them, and so transporting
for me, as the music and flashing lights revive
memories. I loved it then, and I love it now,
a moment of innocent joy and make-believe.

Night was beginning to fall as I turned away
towards the restaurant where my own family
waited, rather too old now to enjoy all this
though it was not that many years since they'd
been tugging at our sleeves, wanting just one
more go, 'please mum, please dad,' something
we laughed about that night and love to recall,
photos on the mantelpiece preserving it all.


They were meant to last forever,
those respected elders with their long
gathered skirts and stiff wing collars.
Family was what they lived for, or so we
supposed, and their Faith was everything.
But who knows what demons haunted
them when curtains closed.

One by one they vanished from the scene,
as if gone on a forever holiday. Much
whispering in the wings and at family
gatherings, but for us, several generations
on, the seasons followed their customary
course and not much changed.

Not at first, anyway. But as the cast
at those gatherings dwindled we came
to understand an altogether different story,
felt somehow let down. They had seemed
so upright, so solid, so permanent.

Now we are the elders though we wear
different clothes, and the young now look
to us for the reassurances we once relied on
as we join in the fun and help as best we can,
and will until we too go on that eternal holiday,
hoping we've made our mark as those before
us had, but nothing sad.