Civil Insolencies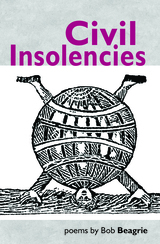 Civil Insolencies tells the dramatic story of the battle of Guisborough in North Yorkshire on 16 January 1643, when Parliamentary soldiers defeated Royalists forces in order to secure the crossings over the River Tees. Bob Beagrie attempts to 'repopulate the vast wastelands of the past' with the leaders and the led, Roundheads and Royalists, soldiers and civilians, historical and imagined, exploring ideas of authority and dissent, free speech and faith, propaganda and social division, reaction and revolution. Civil Insolencies looks back on a World Turn'd Upside Down from our own divided and uncertain times.
Cover image: woodcut from The World Turned Upside Down, or No News and Strange News
Sample Poems

'This ae nighte, this ae nighte, 
Every nighte and alle, 
Fire and fleet and candle-lighte, 
And Christe receive thy saule.' 
The Lyke Wake Dirge (traditional)


From Malton across hail-lashed heatherlands: 
Kirkbymoorside, Blakey Ridge, Castleton,                                    
the cut of Ruthergate down through Kemplah Wood
 to the remainder of the cross; devouring mile-markers, 
bridestones, megaliths, the Lord's wind in his face, 
Hugh Cholmley drives his pack of war dogs onward 
with the whip of his words, On, Rogues and Rufflers, 
it is the First Fruits of the Spirit that shall nourish us! 
with Whitby, his home, under threat these hounds 
with round heads and sheathed steel teeth 
(cony-catchers, apple-squires, nips, cross-biters) 
refuse to rest, each stride bringing them closer 
to salvation, their own and that of a divided nation 
through hallucinations of exhaustion, fear, trembling. 

The long ditch calls in a voice of earth, 
Roll in, curl up, lai doon yoe hedds 
spek what yoer nehst sore step is worth 
the's little to gaaign at this road's end 
drop yoer burdens, stay 'ere insteed 
anly death awayts aheed me freonds.


'...for I see the dirt of the Slough of Despond 
is upon thee; but that slough is the beginning 
of the sorrows that attend those that go on in that way.' 
John Bunyan, Pilgrim's Progress, 1678


Tinker John is tramping in the train of boots 
through porridge spills of freezing fog 
a lousy sun crawling from its make-shift cot 
sick-bed, scruff-basket nest up on Ravenscar; 
is only aware of something groaning deep 
inside himself – it tells him he is still alive. 
They clomp across the underside of clouds 
their pikes and helmets scrape furrows
in the fields beside The Lion's beer garden – 
you can glimpse them passing in the bull's
eye bevel of the remote pub's snug window. 
John remembers that one day he will beget 
a daughter, blind-born meadow flower, 
who shall inherit the Earth, like him, 
through suffering, in this topsy-turvy world 
he's learning how to live on the invisible.


'a despicable and contemptible generation of men, persons 
differing little from beasts' 
Oliver Cromwell


By the Roda Cross Sir Hugh calls a brief halt 
to let the troop catch its breath, foot and horse 
find respite, while gunners check the cannon 
remains secure and stable on the back of a wagon, 
swig a sip from a hipflask to stoke the belly's fire, 
nibble at yellow gorse flower, eye barren skylines: 
a tattered cloud – sun beams flood Cockayne Ridge 
to signal a land of plenty, a common treasury 
kept out of reach by the trappings of majesty. 
Then, a drab heath-hen bursts frantick to low flight 
wings awhir, beak klop-klop-kloping proclamations 
over sheep droppings, It is the will of the people! 
Are we not all, John thinks, grouse bred for the rifle, 
heirlooms of the Land Lords' pressed austerities?


'We had fed the heart on fantasies, 
The heart's grown brutal from the fare, 
More substance in our enmities 
Than in our love...' 
WB Yeats, The Stare's Nest by my Window, 
from Meditations in Time of Civil War, 1922.


three grand owls 
and whatever decision they'll make 
the next chapter, though 
it's yet to be drafted-written-revised 

factious conventicles 
those immersed a second time 
remember Münster 
the horror           the terror 
the troubles                     the cache of weapons 
buried in the woods for the just-in-case 
expertise – its forecasts and explanations 

the lie on the campaign bus 
so much 
     misdirection, away 
from an acceptance of history as gaps 
the dead albatross you wear on your back 

the girl with the Mata Hari stare 
tied to the stake refusing 
a blindfold                        all those 
like them                          remoaners 
big bad losers 
Covernanters 
in the Killing Time 
   traitors                         malignants 
unpeople within the people 
Cnut's wet socks and the incoming tide


'...earth plastred with English goare and turned into a Golgotha of bones...' 
Eye-witness account of Edgehill after the battle


Conscience squats the nape of each conscript 
whispering babbles of doubt into their lugs, yet 
since Edgehill Lieutenant Colonel Launcelot 
has felt no trace of temerity for he knows 
He hath stood upon Hellsmouth's bloody lip 
peering into the pytt and perceived a trewth, 
that turned his mortal meat to shafts of 
light his ribcage to pearly gateposts through which 
Thwe Saved shall come to gladly pour their souls, 
for he hast strode through carnage unscathed 
with a dreadful calmness of the spirit 
while all around him screamed and fell, 
and he was saturated by God's Grace, 
who revealed how he be the Christ reborn – 
how this world of muck, steel, blood, smoke 
be naught but the flit of tallow-cast shadow; 
these grunts have yet to undergo such baptism.


'If anyone on the verge of action should judge himself according to the outcome, he would never begin.' 
Søren Kierkegaard, Fear and Trembling, 1843


Will Coppe, sitting on a lichen slab, spits 
on the earth, grounds the spittle into the dirt 
with one boot sole, takes a bite of a biscuit 
hands John what's left, neither of them speak. 
Since conscription they have both destroyed 
many straw men with blade and musket balls 
in the training grounds of Scarborough Castle 
but with Edgehill's mowing an oft whispered 
Hellmouth of sinners shovelled into Doom's Mill, 
the prospect of destroying folk made up of skin 
and bone sticks in the craw like biscuit crumbs. 
Yet convincement is signed in each fellow's 
Book of Conscience for The Lamb's War you 
must know before you witness his Kingdome.


'The great Sage as high as Heaven visited here.' 
Wu Cheng'en, Journey to the West, 1592


High staggered moorland crossroads 
too few trees, the big wide sky 
fresh roadkill and opportunist crows 
turning turning turning turning, 
The Roda Cross by the roadside 
scattered offerings in the grass 
Hogtenberg's summit beyond Westerdale 
Crouched friars, Rosedale Abbey, Cockayne Ridge 
Roundhead recruits resting sore shanks, 
tarmac's scrape and sweep through crimples: 
Life line, Fate line, Heart line, Sun line. 

The cross's shadow pointing arrow straight 
at Boulby Mine, turbines and the sea 
turning turning turning turning, 
sheep picking paths through cropped heather, 
fleeces marked with red or blue splodges, 
lichen forests spreading over dry stone walls. 
I stand, one hand on the cross, turning, 
aiming names at horizon markers
knowing the words can't reach them, 
how the crow-wind strips them bare, 
how history is deciphering our footprints.