Truth Street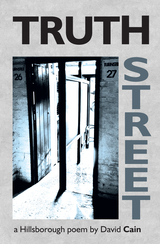 On 15 April 1989, during the opening minutes of the FA Cup semi-final between Nottingham Forest and Liverpool, 96 men, women and children died in what remains the most serious tragedy in UK sporting history – the Hillsborough Stadium disaster. Thousands more suffered physical injury and long-term psychological harm. For almost thirty years the survivors and the families of the dead had to campaign against the police, government and media who blamed the supporters for the tragedy. Eventually, in 2016 a second inquest ruled that the supporters were unlawfully killed due to failures of the police and ambulance services. In June 2017, six people were charged with manslaughter by gross negligence, misconduct in public office and perverting the course of justice.
Published to mark the 30th anniversary of the disaster, Truth Street combines the eye-witness testimonies of the survivors at the second inquest to create an epic-poem that is part oral history and part documentary theatre. Inspired by the work of Charles Reznikoff and Svetlana Alexievich, Truth Street was first performed in 2017 at the Utter Lutonia festival and the Brighton Festival.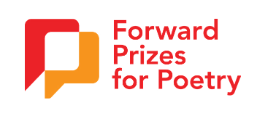 Shortlisted for the Forward Prize 2019 Best First Collection.
Sample Poems

This massive surge from behind came.
It was violent and sudden.
And sent us scuttling down towards the front of the pens.
I was pushed down the terracing.
It was coming from behind me on the left.
A river of people
Suddenly entering the terracing from the centre tunnel.
Pushing the people that were already standing there forward.
The scene reminded me of pictures on television in the nature programmes.
Molten lava
Molten lava flowing down a hillside from an active volcano.
like a wave.
Down towards the terrace.
Wave after wave coming in from behind you
There was no going
Back.


I have never felt anything like it in my life.
It was hard to breathe.
I wanted my big brother to help me.
I was scared and I was looking for him to try and resolve
the situation for me.
My main focus was trying to breathe.
It was a battle to try and stay on your feet.
Stay breathing.
It was just stay on your feet
stay breathing,
don't go down.


I cradled him
Trying to protect him from the pressure.
My dad turned around to face me,
And he had a look of just sheer terror on his face.
I could see that.
I just said to him that he would be okay.
From that point, it became worse, and I was really, really
Concerned for my dad, for myself.
Then there was a sudden surge from the back.
I couldn't hang on any further with my hands,
And my arms buckled.
And I was twisted to the right-hand side, with my back to the fencing
With bodies just pressed from all sides against me.
That is the last time I had my father alive.


It was just an eerie sound.
It probably only lasted a second or two.
But it felt like a lot longer.
It's hard to describe the sound.
I've never heard the sound since.
As it seemed to settle, people started screaming and panicking.
It wasn't nice. It was people screaming, people crying all at the same time.
The noise is almost impossible to describe.
People screaming, people shouting for kids
People shouting to the pitch side for help.
It was so hot. The smell was terrible and lingered in the air.
Sweat. Heat. Vomit.
The smell is not something I have ever smelt before and I have
never smelt it since.
Is it the smell of death?
I don't know.


I hadn't seen him for quite a while, since we left school.
We ended up on the barrier together
It was a strange place to meet someone.
We were both on the barrier, squashed up
He said to me, 'When's it going to stop?'
It was just getting worse and worse.
He was shouting out,
'Fucking hell. Fucking hell.'
There was nothing I could do for him .
He was bent very far forward over the barrier.
He looked around and his face was very, very red.
His eyes were very wide, distress and panic on his face.
'Help me. Get me back. Get me off this barrier.'
It was right across his hips and his stomach.
I was trying to pull him back, trying to pull him upright and pull him away from the barrier.
It was no use.
There was that much pressure coming from the tunnel behind us.
I shouted, screamed for people to help.
And all these hands came over him from behind.
And started pulling him back off the barrier as best as they could.
Even given the distress that people were in themselves.
They were still doing everything they could to help others.
He was screaming his legs were trapped,
His legs were going to break.
He was in a great deal of distress.
I had hold of his arms
He was looking at me, and I was looking at him,
And we separated.
I couldn't hold onto his hand anymore.
My whole world was in that one pen at that moment.


The girl next to me was shouting,
'Help me, help me.'
And the man in front was screaming about his legs being trapped.
He was just pinned against the barrier.
And he was shouting,
'Hold me up, hold me up'
So I put my arms underneath his armpits and tried to hold him up,
But then my legs got trapped
And then the last I remember is someone saying,
'The barrier's about to go'
I heard his knee crack.
We fell through the barrier
When the barrier collapsed, it went down, my legs were underneath 
And my body went over the top.
I found myself kneeling and scrambling on top of people
And the man I was trying to hold up was underneath me,
And I had my arms trapped under his armpits.
And somebody said to me, 'Let go of him, let go of him'
And I said, 'No, I'm holding him up'
And he said, 'Don't bother, mate,
He's dead.


Trying to push people back into the pen.
I was shouting that people were dying, let people out,
They didn't respond.
They could hear us.
I produced my warrant card.
I thought if they realised I was a policeman
And I was saying that people are dying,
Then they would respond.
I held it up in the air.
I said, 'Why wasn't they letting people out?
There's people dying in there.'