Slow Burner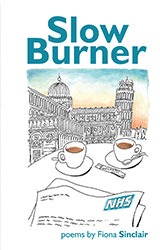 Fiona Sinclair's new collection looks at some of the slow processes that shape and reshape our lives. In the first half she explores the slow burning fuse of love and desire in middle-age – new lovers and old habits, first dates and second chances, her 'Canterbury amble' alongside his 'south London strut', her 'Guardian sensibilities' against his 'wind up' opinions from the Sun. The second half of the book records the slow burning anxiety of living with the undiagnosed chronic balance disorder that eventually forced her to take early retirement – years of increasing disability, consultations, waiting-rooms and MRI scans, the 'death row wait of weeks' for the next test result, the 'dark prognosis' of her worst fears filling her head full of 'ambulance sirens'.
Cover image: John Longstaff
Sample Poems

A wintry walk shod in boots with bald tyre's tread,
Buddy Holly on Walkman you did not see
the ice snickering with slap stick intentions,
pavement's punch awaking the disorder like a sleeping curse.

Your symptom's alien language clumsily translated to GP as
Can't walk, pins and needles, numbness,
after glockenspiel play on elbows and knees…
doctor's diagnosis: Well you've been through a lot lately.

In the library your trembling fingers slid down columns
in medical dictionaries stopping ominous as a Ouija board
at MS ME MND, your heart amplified to a stethoscope roar as
you scanned symptoms which on paper seemed a perfect match.

Wheedling your GP for a third opinion with another consultant
who after a 10 minute examination, I can find nothing wrong with you.
Why can't I walk properly? Answered with a shrug.
Nevertheless relief unclenching you like a first gin and tonic.

Months on the symptoms slowly subdued leaving you
lacking the muscle now to queue for the Next sale
but managing to command a classroom perched on a table;
unaware that the fifth column affliction still sabotaged your body…


Her last chip, this London hospital,
clinical records given the slip somewhere in Kent,
a scribbled note from her GP, she sat before this consultant
with a new-born's medical history.
Lottery numbers excitement as he nodded at her narrative,
flourish of his fountain pen and she was entombed
in an MRI machine.
When her tight lipped body foiled his lines of enquiry
I think we'll keep an eye on you,
knowing some disorders play a game of hide and seek.
Writing degree essays in the waiting room
gave way to marking kid's homework
as check-ups routinely reassured her
I don't think there's anything to worry about.
So for years she didn't.


The tests were routine as a leg wax now,
no greeting from the male medics chatting like Saturday girls,
Data will appear here, the dozing machine opens its eye, blinks twice,
student following his mentor's actions with the awe of a Dr Who assistant.

Hitch your skirt up, you curse the pubic hairs
self-seeded down your inner thigh,
but seeing the men momentarily freeze in DVD pause,
inwardly chuckle at capturing their full attention.

ECG gecko pads affixed to your legs, silence,
as the current twitches sinews in a mini Mr Universe display,
then a bolt deep into muscles that jump at each electrical bite,
gripping the couch you hold onto lemon cake at Cafe Valerie afterwards.

There's a significant change there, do you see?
Student's pen sprints across the pages of his notebook,
a sudden lift drop in your stomach,
exiting senior medic tosses over his shoulder

Your consultant will discuss the results with you,
anticipating a death row wait of weeks,
an ambulance siren in your head I need to know now,
instead you shuffle to the hospital entrance shackled by fear.


In the shared taxi she has bagged the front seat
beside the Elvis pretty driver.
Reclines as if already on a sun lounger
When does his shift end? Which clubs does he go to?
Her voice says late 40s, Louboutin heeled,
he giggles like a bashful girl, claims Little English.
But she has key phrases and gestures expressive as deaf alphabet,
so they manage a slow dance chat all the way into Side.
Two weeks sleeping in the sun all day like a cat,
evenings accessorised with scotch and Marlboro,
she will out-gyrate the belly girls,
that night's young man tip-toeing from her room
at 6 am clutching a hundred lira tip.
So disembarking at our hotel first,
she smirks back at my silently smiled You go girl.

In a Side side street I am snared by
cheap eye brow threading.
As the young man cats cradles cotton,
You have beautiful eyes, Are they contacts?
Years since wolf whistles stopped,
I shed 25 years at his compliment.
Studying more than the shape of my eyebrows
he reads, middle aged, British, alone,
begins to offer a la carte services
I can lick your pussy; bang until you bleed…
takes my laughter behind hands as coy fan coquetry.
I lead him on with empty Yes' half believing,
despite this town's fake Rolex, Mulberrys…
his I will not charge because you are pretty.
But at his sudden What time shall I come to your hotel tonight?
I thrust 20 lira at him, escape with a savvy 50 year olds
bad cheque promise to call the number on his card later.
Scurry back to You should not be allowed out alone.


In M&S, her Look at this, Look at this, Look at this,
curtails again my own attempts to browse.
I teeter on the edge of slapping her,
cool off in the men's department.
Repentant, bear half her packages to Costa Coffee
buy cappuccino and cake, because she did the driving love.

Nearby, a middle aged woman huddles over her Kindle,
carrier bags as cover in case stood up,
a second woman stoops to search her features for girlish traces,
speaks her name with question mark.
Their embrace brings a friendship back from the dead,
then chaotic questioning as they sit with beaming emoticon faces.

A thickening in my throat as I remember:
the man whose weekly calls bi-polar swung between suicide strategy
and stomach cramping wit, who no longer phones me,
the woman whose getaway van I drove beyond
the reach of a husband's fists who has Facebook defriended me,
because my slot machine life suddenly paid out the windfall of a husband…

These two women never quite trashed
youthful remembrance of hennaed hair and flares,
whereas I am an amnesiac memory that no prompts
of Dickens, handbags, Paris will revive.
So I wrestle with yawns as a screed of texts sent to a lover
are read to me once more by a rebound friend.


Chronic illness commits marriage and Florence
into it will never happen box, then you bob up like a reprieve,
hand me lap top, credit card Book it.
Weeks between are tallied with teased
Do you believe you're going yet?
But at the airport I anticipate freak weather,
in the plane I predict engine trouble,
on Pisa platform I expect rail strike.
Merchant Ivory lead me to expect
my breath would be taken away on sight,
instead we drag cases over pedestrian crossing
plunge into thoroughfares that echo Rome, Milan…
Strict mini break schedule, we aim first for 'David'
but find all streets usher us to the Duomo's presence.
Your globetrotter tribute It's better than the Taj Mahal.
We dervish twirl at other city 'finds' on way to
Michelangelo museum where my gaze climbs and climbs
the titan statue that upstages your Will you marry me?
Citizens, glamorous as their city, fashion police inspect us,
your Crombie, my fake fur coat passed with approving nods
until we strut the streets. Boldly by passing two hour queue at Uffizi
with tale of your 'bad heart'. Ushered through entry rope like VIPs,
tourists straining to identify us behind our Ray Bans.
Inside, I snub Raphael, blank Titian in a room to room search
for the Botticelli Venus, 20 minutes audience
in her Rita Hayworth presence, and I develop a girl crush.

Ponte Vecchio, we anticipate Bridge of Sighs but get drab,
your Perhaps its better inside cancelled by rows of blingy jewellers.
Compensated by Best hot chocolate ever so thick we toddler giggle
as you stand your spoon up in it like a joke shop trick.
Outside the Medici palace, you are not to be fooled
by another plain Jane building, but I insist sensing treasure .
Your grumbles about more steps becoming Have a look at this,
two hours ogling emblazoned ceilings, walls, floors…
Late afternoons, wanting the city to myself,
I persuade you, with tryst palpitations,
to rest your sight-seeing strained back with
Won't get lost, Over spend, Be long,
then pelt down pension stairs, into the streets' embrace,
where I two time you with Florence.