Breakfast at Wetherspoons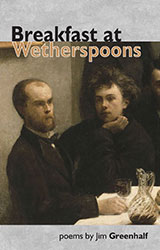 Breakfast at Wetherspoons is a meditation on the idea that 'Man is born free and everywhere he is in chainstores.' It's a book about freedom and necessity, mortality and time, Tolstoy, Diogenes and Jihadi John. It's a book about poetry and comradeship, and old friends like Sebastian Barker, Barry MacSweeney and David Tipton. It's a late-flowering 40-year old love story. And it's a kind of bleak Bradford noir, in which Greenhalf explores life among the Struldbrugs queuing in the Co-op, stays too long in the Hard Day's Night Hotel and catches the last train to Skipton. And at the end of Dead Pan Alley there is always a view of Salts Mill and the green hill rising steeply to Baildon, where John Wesley preached love's holy connexion on the eve of the French Revolution.
Front cover: Fantin Latour, Coin de table (1872) showing Verlaine and Rimbaud (detail)
Cover photograph: Lesley Thorndyke
Sample Poems

A crinkled membrane,
like a pharoah's ear;
entombed in an air-tight bag:
its fate is usually cut and dried.
The shelf-life of an average crisp,
whether baked or fried,
is four months, five months,
no more than six.
Slightly longer than a foetus
in the land of potato-eaters.

Though we have had but half
the time of an average crisp,
our fate is neither transparent nor opaque.
The shelf-life of our love,
pan-fried or half-baked,
depends on us.


Surprising myself I organised a weekend in the capital of love:
a hotel on the boulevard de Bonne Nouvelle
and a Manet retrospective at the Musee d'Orsay.
Floating under the bridges of Paris on the Friday,
walking over Pont Alexandre III the next.
Looking down, once again I resisted the temptation

to fling everything in – coat, passport, identity –
and sink or swim like Jack Nicholson
in Five Easy Pieces. Or Reginald Perrin.
According to Desert Island Discs
all any soul needs is a few isolated acres,
eight records and three books:

no income, no outcomes, no football, no love.
Sod that. I couldn't be a Filipino compressor fisherman,
sucking on a leaky garden hose thirty metres deep,
nor a refugee on a raft of phones.
We walked away from Manet's bearded men of property
in pursuit of life, liberty and happiness.


In the years before
France's revolutionary wars,
John Wesley rode a horse
uphill to Baildon moors.
Steep Browgate is now revved
by ten tonne buses and four-by-fours
to the round-about where
quarrymen and weavers
congregated outside a chapel door.
They came to hear
the Bible man tell them
of love's holy connexion,
and why they should endure.

Whose cup spills over?
The emptiest pots make the loudest din.
Clay is stronger when it's fired,
flesh is stronger when it's hired.
Look through a glass darkly:
half-empty or half-full?
Some have no glass at all,
others no water,
no country.


Man is born free and everywhere he is in chainstores.


Scattered about Shakespeare's bust in Love Lane,
boxed bones, bits of skin and flesh.
Eucharist of love's lunchtime remains,
an Alpha Romeo lying to Juliet:
I love you more than Golden Nuggets
and all the Whoppers in the world.

Only the young dream of consummate fucks.
Love, unlike enriched uranium, is not all-consuming
for those obliged to scrape a crust.
Drink to me only if you must;
but first let me feast on breasts and thighs and legs.
Then, like that love-sick arse Orsino,
cushioned by banks of unearned income,
I too might dream of ultimate head.

Given a choice between a loaf and thou,
I think I'd pick the bread.


in memory of Sebastian Barker, poet and editor


Our hilly April woods are dusted with bluebells,
upright as Scots Guards or Paris dancing girls.
Kalo taxidi: have a good journey through them.
In the flowery mountains of the Peloponnese,
as banks crashed and the value of money burned,
he wrote his last poems and made his peace.

I met him when times were different:
a party at Christies to toast his editorship
of The London Magazine. Cheshire cat grin,
the wings of his hair dashed back,
a demeanour that beamed. Anything
was possible. We arranged to talk and eat,
a street near his North London home.
Hives of roasting meat on spikes,
Oregano, red wine, coffee,
aromas from the Bosphorus, the Aegean.
Then he was gone.

A scientist on television explained
that in quantum physics bi-location
is a common occurrence.
Kalo taxidi, my friend, kalo taxidi,
in London and in Greece.