There Will Be No Miracles Here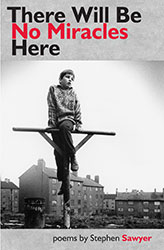 Stephen Sawyer's remarkable first collection is a book about politics – public dreams, private desires and common fears. From a Merseyside housing estate in the 1960s via Pinochet and Thatcher to the floods in Sheffield in 2007, these poems trace the sutures of power and resistance on the body and under the skin through the mediations of love, death, class, art and oppression. They raise questions about identity and belonging in a time of rapid structural and technological change, and celebrate the creativity and courage of individual and collective responses. There Will Be No Miracles Here is a book of passion and humour about people who live at the sharp edge.
Cover image: Jez Coulson
Author photo: Melanie Ormesher 
Sample Poem

    I

I'm walking with friends
between acoustic tent and main stage,
in lush fields, where the Battle
of Orgreave took place.

Remember who's drawing warships
at the back of the class
while the 'A' kids learn maths;
cast as the turnspit 'jailer'
of Antonio, wearing sackcloth
in the service of Shylock;
a metallic silver-painted sword
for a part without a word.

You could confuse Zulu drum
– beats of truncheons on shields
with the echo of speakers
in these fields: a Sex Pistols
tribute band, scissor-kicking
in drainpipe black, a bearded man
in a red t-shirt: Keep Calm
and Read Marx.

    II

Sitting with miners in Beighton Welfare
waiting for the picket call
then hands are braced
against van roofs as we hurtle
in convoy across barrens
like a mace-dented breastplate
under a faint rind of moon.
A light floats to the surface – blinks,
a string-vested man sings
at a frosted bathroom window:
I left my heart in San Francisco.

Kiveton Park our destination,
where a gas explosion kills nine men,
miners build the listed baths
and the pit yard sings to the village
over the diverted tannoy:
San Quentin, you've been livin' hell
to me … Goodnight Sweetie … at 58,
Nettleham Road… Goodnight Sweetie

A nacreous arc bisects our route,
down to third, a bandaged tree,
second, Laundry Works,
missing letters & Sons,
Butchers Entrance, time
out of joint, back up to third –
and a backward glance:
child ghosts, a grim reaper,
painted on boarded up windows;
a cooker lit by its own irony
on forecourt ruins
and we're flying again
in the lung-dust darkness.

The colliery's beaming eyes clock
you like a head wound, frame
versions of winding towers,
and pit baths, silhouette coppers
with dogs, patrolling the grounds
like hired guns from out of town.

Kettled and pushing back, a flask
flying: a single scorpion shadow
in the marsh window light
of a colliery bus as it crosses the line.

    III

This is a reconstruction:

A cattle baron refused the free run
of ploughed land, hires a gunfighter
as mean as a scabbard with eyes
to clear the homesteaders off.

A beleaguered farmer slogs
through the wagon-rutted mud,
reaches the saloon porch where
the assassin, Frank Wilson, smile
drawn tight as a vultures talons,
closes the angle on higher ground.

One Arthur Scargill
There's only one Arthur Scargill
A shirtless kid leaps over flowers
in neighbourhood gardens,
mounted police galloping full-tilt
tearing them up, behead the sun.

    IV

People I haven't seen since the strike
greeting me on the battle site
where the miners fought to stop
the flow of coal in and out
of the now absent coking plants.
Compere, Attila-the-Stockbroker
rises above a failed microphone,
leaps off-stage into the crowd to bray
and snort his narrative poem
of class lore home. A man, naked
from the waist up, lying face down
and left for dead. A woman sitting
in a deck chair picking up a stitch.

    V

Women of the communal kitchen
insist I eat a free dinner
though I'm not a miner on strike.

Mums, Dads and kids, playing
with tennis ball and dustbin lid
on summer evenings. You know
she sold her wedding ring to pay
the lecky bill? Can you hear
the pit yard sing: Ol' Man River?

Pensioners legless on elderflower
falling over sequestered pews
along the candlelit terraces
at the anti-Princess Di festivities.
Can you hear the pit yard sing?
And did those feet in ancient times…

Three hours baby-sitting
for a sack of beetroot. Eight pints
of homebrew for fixing an engine.
Sheer weight of numbers
beating off bailiffs. Can you hear
the pit yard sing: The miners united,
will never be defeated?

    VI

I return to myself as the feet
of this kid, the hands of that kid,
others who are myself, running
for the ball in a shell suit of fog.
A bear chases the Avon Lady.
Wanna buy a chamois leather?
The Avon Lady chases a bear.

Laughter in the cage ascending
at 25 feet per second, stomachs
leaping as the sun sets fire
to the tongues of those who harvest
the hard fruit of the deep earth,
inseparable from saltpetre, water,
and forebears, who are themselves.
Can you hear the pit yard sing?
We're sold, solid as a rock.

That way of hanging out, power
of the untamed thought
between chimney pots, chinks
of curtain light, bits of motor bike,
a mother's valium lips, thinking
without banister rails. A first love,
a mirage's sister, receding
as I approach her Bacall-glam eyes,
and braced front teeth, who
always got a speaking part.
Her mind I knew like the Sea
of Tranquillity, tried to find
one Sunday, amidst verandas
of blue hydrangeas; the absences
of abstract sculptures, a Pekinese
cradled in arms, garden walls
of slab-cut lumber; a union jack;
the Spion kop chanting of a train,
calling me back, calling me back.

    VII

Pears and carnation milk for tea
Harry Secombe's flaccid grin
on Songs of Praise
but my dad said he could sing –
Love is a Many-Splendored Thing –
streets you enter your life in, meet

Shane, the kid who loves
the eponymous western, starring
Alan Ladd; goes to his surface job
at the colliery in his Stetson hat
with spurs strapped on his boots –
shepherded and supported
by the miners. Tea breaks, you
find him perfecting his quick draw,
six-gun hanging from his holster,
girlfriend with flask and snap.

A foreman told to address the problem
suggests 'the lass' take herself off –
Cook for yah man at 'ome.
Shane centres his balance,
draws on his irons, squeezes
the trigger, releasing the hammer
on a roll of percussion caps:
Git yah hands off a ma' woman –
a perfect Missouri drawl.

    VIII

Children release balloons
in front of the main stage.
All the time of light
and a hiss of anger remain
in the green apple I bite into.

Pit-boot flush in stirrup-cup, Shane
hoists himself up. A sparrow hawk
circles the listed baths. His woman
holding and held, swinging aboard
to laughter and applause of admin
and canteen. I canter on my heart.