Lenin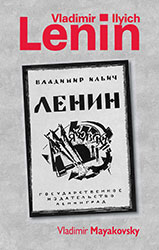 'Never have I wanted to be understood so much as in this poem,' said Mayakovsky of his 3,000 line epic Vladimir Ilyich Lenin. Written immediately after the death of Lenin's in 1924, it proudly and passionately sets the story of the Bolshevik leader's life against the history of capitalism and the trajectory of Soviet communism. By turns declamatory, lyrical, journalistic and colloquial, the poem is an extraordinary record of the utopian excitement of the early years of the Revolution - as well a warning that Lenin should not become an icon. It was Mayakovsky's most significant work; no other book of his was ever printed in such large numbers. When he read the poem to a packed Bolshoi Theatre in 1930 the event was broadcast live across the Soviet Union.
Out of print in English for over thirty years, Vladimir Ilyich Lenin remains relatively unknown in the west, where Mayakovsky is predominantly regarded as a tortured love poet. Based on Dorian Rottenberg's 1967 translation, Rosy Carrick's new bi-lingual edition of the poem firmly re-establishes Mayakovsky's reputation as one the most important political poets of the twentieth century.
Cover image: from the edition of Владимир Ильич Ленин published by Leningrad State Publishing House in 1925.
Extract



The time has come.




I begin




the story of Lenin.




Not because




the grief




is on the wane,




but because




the shock




of the first moment




has become a clear-cut,




weighed and fathomed pain.




Time,




speed on,




spread Lenin's slogans in your whirl!




Not for us




to drown in tears,




whatever happens.




There's no one




more alive




than Lenin in the world,




our strength,




our wisdom,




surest of our weapon.




People are boats,




albeit on land.




While life




is being




roughed




all species of trash




from the rocks and sand




stick




to the sides




of our craft.




But then,




having broken




through the storm's mad froth,




one sits




in the sun for a time




and cleans off




the tousled seaweed growth




and oozy




jellyfish slime.




I




go to Lenin




to clean off mine




to sail on




with the revolution.




I fear




these eulogies line upon line




like a boy




fears falsehood and delusion.




They'll rig up an aura round any head:




the very idea –




I abhor it,




that such a halo




poetry-bred




should hide




Lenin's real, huge,




human forehead.




I'm anxious lest rituals,




mausoleums




and processions,




the honeyed incense




of homage and publicity




should




obscure




Lenin's essential




simplicity.




I shudder




as I would for the apple of my eye




lest Lenin




be falsified




by tinsel beauty.




Write! –




votes my heart,




commissioned by the mandate of duty.




* * *




All Moscow's




frozen through,




yet the earth quakes with emotion.




Frostbite




drives its victims to the fires.




Who is he?




Where from?




Why this commotion?




Why




such honours




when a single man expires?




Dragging word by word




from memory's coffers




won't suit




either me




or you who read.




Yet what a meagre




choice




the dictionary offers!




Where to get




the very words we need?




We've




seven days to spend,




twelve hours




for diverse uses.




Life must begin –




and end.




Death




won't accept excuses.




But if




it's no more




a matter of hours,




if the calendar measure




falls short,




'Epoch'




is a usual comment of ours,




'Era' or something of the sort.




We




sleep




at night,




busy




around by day,




each grinds his water




in his own pet mortar




and so




fritters life away.




But if,




single-handed,




somebody can




turn the tide




to everyone's profit




we utter something like




'Superman',




'Genius'




or 'Prophet'.




We




don't ask much of life,




won't budge an inch




unless required.




To please




the wife




is the utmost




to which we aspire.




But if,




monolithic in body and soul,




someone




unlike us




emerges,




we discover




a god-like aureole




or appendages




equally gorgeous.




Tags and tassels




laid out on shelves,




neither silly




nor smart –




no weightier than smoke.




Go




scrape meaning




out of such shells –




empty as eggs




without white or yolk.




How, then, apply




such yardsticks to Lenin




when anyone could see




with his very own eyes:




that 'era'




cleared doorways




without even bending,




wore jackets




no bigger




than average size.




Should Lenin, too,




be hailed by the nation




as 'Leader




by Divine Designation'?




Had he




been kingly




or godly indeed




I'd




never spare myself,




on protest bent;




I'd




raise a clamour




in hall and street




against the crowds, speeches,




processions and laments.




I'd




find




the words




for a thundering condemnation,




and while




I'd be trampled on,




I




and my cries,




I'd bomb




the Kremlin




with demands for resignation,




hurling




blasphemy




into the skies.




But calm




by the coffin




Dzerzhinsky appears.




Today




he could easily




dismiss the guard.




In millions of eyes




shines nothing




but tears,




not running




down cheeks,




but frozen hard.




Your divinity's decease




won't rouse




a mote of feeling.




No!




Today




real pain




chills every heart.




We're burying




the earthliest




of beings




that ever came




to play




an earthly part.




Earthly, yes:




but not the earth-bound kind




who'll never peer




beyond the precincts




of their sty.




He took in




all the planet




at a time,




saw things




out of reach




for the common eye.




Though like you




and I




in every detail,




his forehead rose




a taller,




steeper tower;




the thought-dug wrinkles




round the eyes




went deeper,




the lips looked firmer,




more ironical




than ours.




Not the satrap's firmness




that'll grind us,




tightening




the reins,




beneath a triumph-chariot's wheel.




With friends




he'd be




the very soul




of kindness,




with enemies




he'd be




as hard




as any steel.




He, too,




had illnesses




and weaknesses to fight




and hobbies




just the same as we have, reader.




For me




it's billiards, say,




to whet the sight;




for him it's chess –




more useful




for a leader.




And turning




face about from chess




to living foes,




yesterday's dumb pawns




he led




to a war of classes




until a human, working-class dictatorship




arose




to checkmate Capital




and crush its prison-castle.




We




and he




had the same ideals to cherish.




Then why is it,




no kin of his,




I'd welcome death,




crazy with delight,




I would




gladly perish




so that




he might draw




a single breath?




And not I alone.




Who says




I'm better than the rest?




Not a single soul of us,




I reckon,




in all the mines




and mills




from East




to West




would hesitate to do the same at the slightest beckon.




Instinctively,




I shrink from tram-rails




to quiet corners,




giddy




as a drunk




who sees the lees.




Who




would mind




my puny




death




among these mourners




lamenting




the enormousness of his decease?




With banners




and without,




they come,




as if all Russia




had again




turned nomad for a while.




The Hall of Columns




trembles




with their motion.




What can be the reason?




Wherefore?




Why?




Snow-tears




from the flags' red eyelids




run.




The telegraph's




gone hoarse




with humming mournful rumours.




Who is he?




Where from?




What has he done,




this man,




the most humane of all us humans?




* * *