Incendium Amoris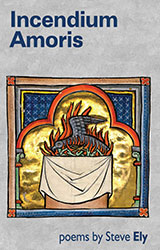 Steve Ely's new book takes its inspiration and its title from Incendium Amoris ('The Fire of Love') by the fourteenth century saint and mystic Richard Rolle, 'the hermit of Hampole'. The book offers a vision of pre-Reformation and post-industrial England through the eyes of the trespasser, the poacher, the recusant and the revolutionary, in solidarity with the swinish multitude against the landed power. Contesting language and landscape and addressing issues including carnality, class, scepticism and belief, Incendium Amoris is a peasant's revolt against the accelerating cultural, social and environmental devastations of globalising capital, a guerrilla-pastoral prophecy of a yeoman-anarchist utopia.
Sample Poems

Paterfamilias Rogerus, of Hampole

And he that schal falle on this stoon, schal be
brokun; but on whom it schal falle, it schal
al tobrise hym.
Matheu, XXI: 24


A slab from quarry at Stubbs.
Hauled from tumbril, tackle
snagged, and snapped: it dropped
like a hawk – sweet Saint Richard!

And rose like a lark, setting itself
in place on tomb. Roger dabbed
small blood and crossed himself –
a cartload of lead, a hairstreak's wing.

Flame fraying to mouldwarp
darkness. Beeswax wilting.
Choir glowing like a stove.
Fen-wolf, distant: compline's descant.


Therfor thei token Jeremye, and castiden
hym doun in to the lake of Elchie, […]
wherynne was no watir, but fen; therfor
Jeremye yede doun in to the filthe.
Jeremye, XXXVIII: 6


Followed the football, fell.
Face-down black muck,
sucked black water:
askr, flittermouse, tade.

Hole in Cuthbert's earth,
a small one: Mamma pumping
his chest and shrieking
to Mary, swiping off worms.

The undertaker's rule: two cubits,
a candle for Richard. Lauds,
the light extinguished –
her dead boy quacking like a duck.


Lord, saue vs; we perischen.
Matheu, VIII: 25


Drowned thieving from fish-traps.
Gaffed to the bank
by punting bargees –
glass-eyed, gaping.

Swan-complected, scabbed with leeches,
oozing like the fen.
Maids tore weeds
and wailed to Richard.

She hiccoughed a frog;
eels squirming from her petticoats.
In Hampull's chapel,
her guttering candle flared.


Effeta, […] Be thou openyd.
And anoon hise eris weren
openyd.
Mark, VII: 34-35


Sunday disco, Hacienda:
mirrorball, Hazell Dean,
drink-drive XR3 –
searchin, lookin for love.

Gary Davies back-perm DJ –
oooh. Mandy does/Mandy doesn't;
back-room snooker, potting
the brown and the pink.

What? Puking by the bins.
She sucked her finger
and poked it in my ear –
better move on down the line.


Nether this man synnede, nether
hise eldris; but that the werkis
of God be schewid in hym.
Joon, IX: 3


Wall-eyed Belle, mad
as a sheepdog. The good one,
wholemeal partridge;
the oddball, starling-blue.

Widowed and witchy, drawing
looks and slander, walking
into doors. She needed a man,
and threw herself on Richard:

who understood her agony,
prostrated on his tomb;
her joy as moon-pie split
to vision, glossy as a conker.


Ryse vp, take thi bed, and go in
to thin hous.
Mark, II: 11


Dirt-track junction, snarling
quadbikes. Cigs, Lambrini,
TLC – Cake Boss,
Bride Wars, Tit-job Dreams.

Richard in hermit's habit,
advert usurping – seemples!
Up she stood, put her foot
through the flatscreen.

A miracle! Tell the neighbours,
he said. She entered the Brookside
fun run. That was a laugh.
Even the winners were cripples.


For thou, Lord, liytnest my lanterne;
my God, liytne thou my derknessis.
Psalms, XVIII: 29


Ague from stank, or Satan:
in truth, we are infants,
knowing nothing. But writhe
did my legs like serpents.

And vomited. Flesh sweating
like cheese. Three days,
three nights – alma redemptoris
mater – save me.

So little the Saint needs:
two pounds of wax
from Hampole's hives – the kiss
of his fingers, warm as comb-honey.


Thei schulen do awei serpentis;
and if thei drynke ony venym,
it schal not noye he.
Mark, XVI: 18


He drove the cattle from the corn
and roared onto the common.
Lad blue among anthills,
quivering like a windflower.

Three days he sweated on his pallet,
eyes rolling like cauldron dumplings;
until they swore by the Virgin
to give thanks at Richard's tomb.

Whereupon he sat up. And the wesil
slew the adder in the shelduck's cave,
sucking his goldpots – smashed
alabaster, whorled in groping muck.