Liberties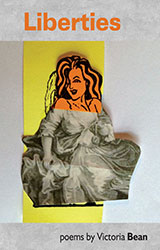 Victoria Bean's second collection is about trouble – those who cause it, those who are looking for it, and those who have found it. It's a social document and a forensic study of a criminal justice system where the action always seems to take place out of the corner of your eye. It's a portrait in verse of the modern city from Gin Lane to Smack City, drawing on the found-poetry of graffiti, tattoos, court-statements and London phone-box 'tart-cards'. Liberties is a book about the nameless, the blameless and the shameless, about needs and wants, desperate truths and unbelievable lies, about the good, the bad and the fine line we all walk between them; about liberties taken and liberties lost.
Cover image: Victoria Bean
Some comments about Caught:
'a canny eye for clear, needling imagery and evocative description... a humbling and poignant collection, and that rare thing: poetry of witness, poetry as social document.'
The Recusant
'Victoria Bean's poetry fuses the fact of the misdone act with the conviction of the spoken word, showing us that it's not what actually happens that counts but how we re-imagine our lives in a language of our own. '
Chris McCabe
'a humane and imaginative glimpse into a world most of us never have anything to do with.'
Mistress Quickly's Bed
Sample Poems

Hangover heavy
he sags into the chair

snarls answers to
questions they
haven't yet asked:

yes, no
yes, yes no

yes, no and
no comment

quite possibly
and
quite possibly
not.


Now they're with the forensic team
the boy's shoes will tell them
more than he's been willing to.

His young hands too; swabbed with
sterile water and a maternal lightness
as the cotton tip alights on his palm

then strokes the back of his hand
to bring any trace of
the other boy back to life.


What a noise she makes, what a need
for attention not even her constant calls
to the emergency services can relieve.

When they mention her previous
she laughs. I'm a walking crime wave
she says at the sudden recognition.


his own language
today, but he's in a
familiar place where

nothing
feels like home

everything
feels like nothing

Are you alright?

A little while later he shakes his head no.


The man who's done
twenty years has a
blur of blue love
on his knuckles and wants
to go straight and talks
and talks and falters
only when he recalls
his girlfriend going with
his two best friends;
he catches his breath
blinks back familiar tears
and tries to banish the
dissolute image
we can all picture now.

His salt water story falls
a sad slow rain
but he won't accept a tissue.


She has a cough;
a Shirley Bassey
tobacco hack
and little else –

except the bags under
her eyes which droop
in pretty perfect
semi-circles on
sleepless sunken skin.


He wears someone else's story;
a Leavers Class hoody: 2009
sixty names he's never met

wet from the rain they'll give him
a sweatshirt – overcast grey –
which he can keep, call his own.