Tell it Like it Might Be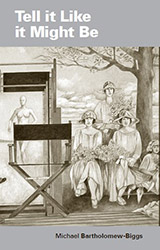 Tell it Like it Might Be celebrates - but also questions - the value of the human imagination. It is the source of grand designs and idle fancies, a key to empathy, tenderness and vision, utopia and desire. It can nourish faith, hope, mystery and love. But imagination has other functions too, spinning webs of private fears and public deceit, guilt and blame, the easy lie and the terrible falsehood. These poems are miniature studies in illusion and delusion, false memories, lovers' deceptions and lying dossiers endorsing war. But beware of scepticism: sometimes the implausible is also true.
Sample Poems
Draw the curtains over Guernica.
On no account remember screaming horses,
let alone the howling mouths of children
and their mothers when the borrowed bombers
loomed and plunged. Too much illumination
here; the hand-clasped oil lamp; the flames;
a single filament still glowing as
the ceiling's falling. How can broken swordsmen
brandish pointed tongues at cameras
underneath that bloody naked bulb?
Ghost stories do not usually begin
in hotel lavatories
even when they're euphemised
as shady-sounding cloakrooms.
An air of salty functionality
discourages the supernatural.
But it was while I dried my hands
a figure came from nowhere –
or a cubicle – and shouldered past
to beat me to the door.
Who was myself. And, when I saw this,
whom I chased along a corridor
towards a gilded mirror, holding up
a pair of shared reflections
(the other one was rather paler).
My voice was trapped inside my throat
but croaked an oath or feeble threat.
'Don't question me' the double said.
Then my late father entered, limping,
looking for his hat. 'Who do you see?'
I whisper-shouted and he smiled
but didn't answer – only held his arms out
to embrace the one who wasn't me
and wasn't me and wasn't me.
The wall beside the stairs was curved and green.
Back windows let in mottled smells from kitchens
far below the sky. A pair of sisters
from Ashby–de–la–Zouch left English papers
at my door. The quietest hour was always
shortly after dawn when lack of chatter
from the bar below awoke my need
to empty last night's wine — but not en suite
and, coming back, I missed my way. It was
as if another creature — not a servant
or a dog — pushed past me through a lightweight
glazed and varnished door onto a landing.
In a mirror by the early light
I saw a life–size portrait of Madame,
the founder's wife, bare–armed, Edwardian
black dress low–cut, white throat caressed by pearls.
I took her image back to bed and wrestled
sleep till morning. Then the landing door
had gone; the mirror's glass was cracked and time
had nibbled at its silvering. The picture
of Madame was missing but the same
sweet perfect–oval face acknowledged me
behind the desk where brochures lay in rows
like answers waiting for unspoken questions.