The Long White Thread of Words
Poems for John Berger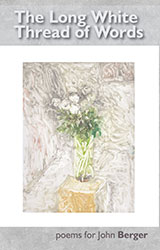 Novelist, draughtsman, film-maker, essayist and critic – John Berger is one of the major European intellectuals of our time. Since the 1950s he has been challenging the way we see the world and how we think about it in books like Ways of Seeing, Permanent Red, To the Wedding, A Painter of Our Time, Pig Earth, Once in Europa, Lilac and Flag, A Seventh Man, Pages of the Wound and From A to X. In 1972 he won the James Tait Black Memorial Prize and the Booker Prize for his novel G. In 2009 he was awarded the Golden PEN award by London PEN for a lifetime's contribution to literature. His Collected Poems was published in 2014. The Long White Thread of Words is a celebration of John Berger's ninetieth birthday by poets from all over the world. Edited by Amarjit Chandan, Gareth Evans and Yasmin Gunarat nam, it features poets from Australia, Bulgaria, Canada, China, Cuba, France, Greece, India, Indonesia, Iraq, Italy, Kenya, Macedonia, Nigeria, Palestine, Spain, Turkey, the USA and the UK, including Elaine Feinstein, Nikola Madzirov, Valerio Magrelli, Anne Michaels, Andrew Motion, Daljit Nagra, Sean O'Brien, Michael Ondaatje, Ruth Padel, Claudia Rankine and George Szirtes.
Editors
Amarjit Chandan has edited and translated many writers into Punjabi, including Neruda, Ritsos, Hikmet, Vallejo, Cardenal and Berger. His most recent book of poems is Sonata for Four Hands, with a preface by Berger. Gareth Evans is the Film Curator of London's Whitechapel Gallery. He conceived and curated the six week John Berger season across London in 2005. Yasmin Gunaratnam teaches Sociology at Goldsmiths College. Her most recent book is Death and the Migrant: Bodies, borders, care.
Sample Poems

for John Berger

When evening settles on the mountain slopes,
if you hear a knock at your door, it's us –
like the sounds of flute and lute
in the old summerhouses of İçerenköy
in a time that is past and present and to come,
in summer nights fresh with the scent of pine:
two sleepwalkers never to be parted,
wandering, calling at lost addresses.

Last time we saw you, you were in a film:
Play Me Something. On a Scottish island
you were telling a story set in Mestre
to passengers waiting for a plane.
It's time to make hay, you write –
a writer in winter and a labourer in summer!
They are rich with it too, your books,
with the scent of cut grass and tilled soil:
Pig Earth, Once in Europa,
and now Lilac and Flag.

In spring,
  when the snow is gone from the mountain slopes,
  if there is an unexpected knock at your door.
  it's us –
    the seventh man,
    the seventh woman,
with lilacs and flags.


Cevat Capan
Translated with Michael Hulse

Cevat Capan teaches in the Drama Department of Haliç University in Istanbul. He has published six books of poetry and his poetry has been translated into French, English, Iranian and Bulgarian. He has translated John Berger's A Seventh Man, Photocopies, To the Wedding and parts of Here Is Where We Meet into Turkish.


The mountain is there very near
like a great closed leather bag,
an abandoned sack of treasure
heavy with stones, with fatigues, with secrets.
	
We are sitting outside
around the big wooden table
and we talk in the sunshine.

As we talk of poetry, revolution, the world,
John's grand-daughter
plucks from the grass the heads of dandelions
then, with all the seriousness children are capable of
when they play,
she comes and puts them down, in a row,
in the grooves of the table to decorate it
like a necklace
little insolent battalion of sunshine
defying the winter in our hearts

Spring in a child's hand
enough
never to despair of beauty.


Francis Combes
Translated by Alan Dent

Francis Combes has translated several poets into French, including Heine, Brecht, Mayakovsky and Attila Joszef. His books of poetry include La Fabrique du Bonheur, Cause
Commune, Le Carnet Bleu de Chine and La Clef du Monde est dans l'Entree a Gauche. He has also published two novels and, with his wife Patricia Latour, Conversation avec Henri Lefebvre. He is a founder of the radical publishing cooperative, Le Temps des Cerises, and was for many years responsible for putting poems on the Paris Metro.


Look at this child
who's learning to read:
she tightens her lips in concentration,
draws forth one word after another,
fishes, and her voice a rod,
eases the line, flexes it and now
lifts these writhing letters
high through the air
so they shine
in the sun of utterance.
so they shine.


Valerio Magrelli
Translated by Jamie McKendrick

Valerio Magrelli is an Italian poet. A frequent contributor to the cultural pages of Italian newspapers, his books include Vanishing Points, Instructions on How to Read a Newspaper, Condominium of the Flesh, The Embrace and The Contagion of Matter. His poetry has been translated into many languages, including English, French and Spanish. He teaches French literature at the universities of Pisa and Cassino.


after John Berger


This morning I take the weathered
secateurs to stems of lantana as
a woman sometimes must. At the gate
a bee-eater suns himself and posts
a kiss to the breeze sidling on by.
Me in batik house-wrap from a departures
lounge. Bird in feathers. The strange and
marbled green of our kingdom. Embrace the
day, bird, I whisper. Just then white
clouds pass by, devastated as ghosts.
Bird and I look upwards. The sky's the size of
a wrinkle – winnowing and closing, the
way an absence will. Birdie's gone –
disappeared – who knows where, wrapped
in the morning's foreboding. Dragonflies in
drag, a water pump muffled by tarpaulins,
the sand and salt and shrub – this is what we
live with. And when we lie in bed and talk
of the body's failings, of the petulant dead, of
disenchantment and insufficient passion,
we're chewing through fears so thick our
teeth are beginning to rust. Passion's
how a poem's meant to breathe – the
air sacs funneling life into saline
lungs. Come back! I won't be like that woman in
the rhyme who swallows a bird, which
isn't to say you aren't delectable. You, who hides
in the foliage. Yoo hoo! You, who are
the czar of colour. The morning's hung
itself on a granite obelisk, waiting for you to
reappear. I pour light through my hands to make
brass, a bell, something to lure you from
your hiding place. I, who thought a
poem could be about a garden, a staple or hinge
on which another poem could be built. I, of
limited imagination. I offer you my skin,
which is the same as offering you the
universe that breathes wild, through leather,
that sews our stomachs to gunny bags of
love. Always and only is a poem about love.


Tishani Doshi

Tishani Doshi is an award-winning poet, novelist and dancer. She has published five books of fiction and poetry, and her work has been translated into several languages. Since 2001 she has performed with the Chandralekha troupe. She lives on a beach in Tamil Nadu, India.


The structure above the boy napping
On a frame, hammocked by cerulean
Thread, wound round serpentine
And tied to its edges is a roof.

The pastels used to coat windowed
Barriers against the chill of Rajasthan's
November – another strain of roof.

The warm welcome of a woman,
Thirty-two, into the folds of the
Family she'd left for a husband
Who, like the others, piles bricks
In Qatar and accidentally sends
Her a picture of a woman with too
Much kohl round dark eyes, allowing
Her, finally, to kiss the man behind
The counter at the jewellery shop –
In broad daylight – causing consternation,
But somehow, reprieve; and in lieu of
Tears, this unexpected returning to,
Enveloping in, a deeper kind of love.

This, too, a roof.


Khairani Barokka

Khairani Barokka was born in Indonesia. She is a writer, poet, artist, disability and arts Advocate and the writer/performer/producer of others, Eve and Mary Are Having Coffee, which premiered at the Edinburgh Festival Fringe in 2014. Her most recent books are Indigenous Species and HEAT, an anthology of Southeast Asian urban writing.