Missing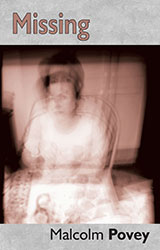 Malcolm Povey began writing these poems when Jackie, his wife of forty years, a teacher, painter and print-maker, was diagnosed with cancer. After her death in 2008 he found himself stranded on 'grief's glacier', adrift 'on loss and loneliness' and talking to his dead wife. Missing is part of that continuing conversation. Refusing the consolations of religion, or comforting ideas about an afterlife or an immortal soul, he forces himself to contemplate the unbearable facts of death, and that his wife is now beneath 'six feet of indifferent earth', her 'loveliness gone underground'.
Missing is a book about illness and death and loss, the meanings we seek in death and find in life. It is a book about the stark pain of suffering, but it is also a book about love and warmth and solidarity. Learning to live with the 'ever-present absence' of his wife, Malcolm Povey insists that people are worth loving, that love does not die with the flesh, that poetry can sometimes help us cut through the well-meaning drivel the bereaved must often suffer when those that they love die first, and that we survive in the memories and practices of those left behind, the mingled joy and sorrow of a remembered gaze, giggle, conversation or caress.
Cover image: Malcolm Povey
Author photo credit: Gerry Griffin
Sample Poems

Forced to endure another day
of my wife's ever-present absence,
my widowed morning wakes up badly
with a wide-awake, unshared lie-in,
cooking Sunday lunch a chore looming
and booming like a pub bore.
Later, bored past tears, I pick up MPT,
to pick on poems while the beef roasts.
Those forty minutes pass like one!
Refreshed by voices speak to me
despite the silence of their words,
by lives whose shape I glimpse and grasp
through shape-shifting, shape-presenting,
mist and sun-shaft of translation,
I cook the veg and carve the joint,
enjoy what's left of our family.


Voices outshout the wind,
there's crashing, splintering outside,
the booms of giant cranes at work,
waking me just past midnight,
getting me up. Feet hobbly with cramp.

The parted curtains show nothing
but dark street. The noises now
seem to have shifted round the back.
I push open the door of my son's
abandoned bedroom, and shout, shout.
	
A hooded man does something to the glass,
while between the window and me,
a shadow hunches. It turns and it's you!
In sudden clarity, smiling, stepping
forward as I ask, 'Where are we?'

Taking my hand in yours, you say,
'My darling,' cliché that alive
you would disdain, and all the world
warms gold and new as, closer still,
you fold your arms around my back.

And then I wake, alone in bed,
wondering where we've been. Wondering
too, months later, why it means so much,
the best of all that's happened in these,
our widowed years.


Today, I drove to see
a friend's painting,

passed a big, bold hill
I guess is millions old,

its green more vibrant
than kingfisher blue,

and though sun shone as hardly
ever, and my car thrilled too,

beneath all that welcome light
a dark river of missing you,

how you loved trips out to shows,
how vibrant paint lit you.


Stairs we climbed to passion in our bed,
stairs we dawdled up to doze, ablute,
stairs we scampered down to rush to work,
stairs that bore our toddlers' tiny shoes,
their burgeoning to teenage trainers priced
near gold, stairs as much a part of every day
as bickering, or socks, or jokes at tea,
and as taken-for-granted, like life itself,
stairs where, legs gone, you fell on the first step,
first step to ten days dying in our bed,
stairs which, like lounge, kitchen, garden,
painting-table, books, you never saw again,
stairs they carried you down, in body-bag,
stairs I fell down, drunk with drink and grief,
stairs my grandson jumps from, giggling,
into his mother's gentle clutch, oblivious
to their thirty years of bearing us up
and letting us down, a snakes and ladders
you're no longer part of, our game boxed-up,
your counter no longer counting, his
hardly begun to know that it's in play.


By Frink's striding Christ,
beneath Salisbury spire,
I put my arm around
your boney shoulder,
cancer eating your flesh,
and said, 'I love you.'

You skipped. For joy,
or surprise? I don't know,
but there was a foot
of air beneath your feet.
It matters not,
cynics would sneer,
near twenty years later
and you long dead.

But it does.
That little leap may lift
a lonely life, though spire
fall and statue shatter,
and even your cancer
is gone with that day.