New
Bob Beagrie's Leásungspell (paperback £8.99) is a narrative epic poem set in 657AD Northumbria, where Celtic and Roman Christianity, old pagan beliefs and magic clash. Written in a powerful mix of Old English, modern English and northern dialect forms, it is a tale of twisting digressions, dreamscapes and stories within stories. It is also an anti-epic, a fool's yarn, the small tale of a nobody wandering alone through the Dark Ages.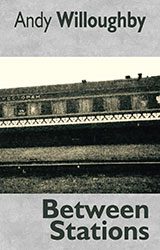 Andy Willoughby's Between Stations (paperback £7.99) is a mock epic, high-octane locomotive beat journey from post-industrial Teesside to deepest Siberia and back again. With a soundtrack of half-forgotten Irish Catholic hymns, Fenno-Ugrian magic chants, Russian folk tales and a battered Bob Dylan cassette, Between Stations ricochets between present and past on a ramshackle quest for the Golden Woman of Khanty Mansiysk.
Smokestack Books
Smokestack aims to keep open a space for what is left of the English radical poetic tradition in the twenty-first century. Smokestack champions poets who are unfashionable, radical, left-field and working a long way from the metropolitan centres of cultural authority. Smokestack is interested in the World as well as the Word; believes that poetry is a part of and not apart from society; argues that if poetry does not belong to everyone it is not poetry.
Smokestack's list includes books by John Berger, Katrina Porteous, Ian McMillan, Kate Fox, Martin Rowson, Tom Leonard, Sebastian Barker, Gerda Stevenson and Steve Ely. Smokestack's growing international list includes books by Bertolt Brecht (Germany), Gustavo Pereira (Venezuela), Rocco Scotellaro (Italy), Heinrich Heine (Germany), Nicola Vaptsarov (Bulgaria), Francis Combes (France), Andras Mezei (Hungary), Yiannis Ritsos (Greece) and Victor Jara (Chile).
Coming Soon
Coming soon from Smokestack are books by Ruth Valentine, Malcolm Povey, John Seed, Mike Crowley, Marilyn Longstaff, Alan Morrison, Ian Parks, Nancy Charley, Julie Egdell, Paul van Ostaijen (Belgium), New Boots and Pantisocracies edited by Bill Herbert and Andy Jackson, the fourth volume of Martin Rowson's The Limerickiad, plus anthologies of poetry from Algeria, Palestine and the Soviet Union.